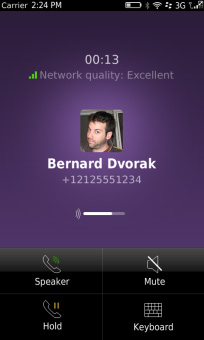 Tag:
Viber
Overview :
free Viber 3.1.16 for blackberry apps
Send free messages and make free calls to any Viber user on any platform.
With Viber, everyone in the world can connect. Freely.
More than 200 million Viber users text, call, and send photos worldwide - for free.
Viber is available for BlackBerry® devices and other smartphones.
Viber is completely free with no advertising and we value your privacy.
Currently available in: English, Arabic, Spanish, and Bahasa Indonesia.
New in Viber 3.1.1:
- Send multiple emoticons in the same message
- Faster message delivery
- Increased group capacity (up to 100 participants)
- Twitter integration, allowing photo sharing on Twitter and "Tweet about Viber"
- Bug fixes and performance improvements
Why Viber?
* 100% Free (*)
* Simple to Use
* Always On
* Ad Free