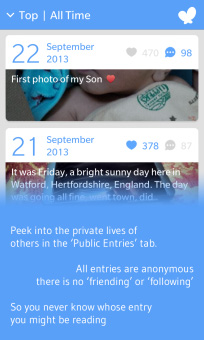 Tag: Candid
Overview :
I secretly like a stranger in social applications, you can choose whether or not publicly released their own content, but only the content, others see only the content you post, do not know who you are. After people can like or comment publicly, but you only see the comments content. Such applications actually quite creative, it seems that only the BlackBerry platform Candid currently have. Also this program can set a password, so you can also use as a diary.



Supported Devices:

BlackBerry Q10

BlackBerry Q5

BlackBerry Z10

BlackBerry Z3

BlackBerry Z30

Porsche Design P9982
playbook

Description:

Candid allows you to record your life, including your significant memories. It is a platform that is meant to promote meaningful conversations, as well as provide user-base advice, encouragement, and support.

Candid is a completely anonymous service in that no one can identify you within the app. All of your interactions, including comments, likes, and favourites, as well as your personal diary entries, remain completely anonymous and cannot be linked back to you.

We want to build an online community where users are able to share their stories with no fear of judgment or shame ― so, what are you waiting for? Start recording your story today!