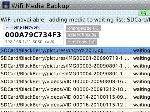 Tag:
WiFi
Media
Backup
Overview :
Model:
Blackberry 8350i (320*240) Related Devices Model: 8500, 8520, 8530, 9300(Kepler), 9330/Blackberry 89XX Curve Series (480*360): 8900(Javelin), 8910(Atlas), 8930, 8950, 8980/Blackberry 90XX Bold (Onyx) Series (480*320) Devices Models: 9000, 9020(Onyx)/Blackberry 96XX Tour (Niagara) Series (480*360):9600, 9630, 9650(Tour2), 9700(Bold2), 9780, Dakota, Apollo /Blackberry 95XX Storm Series (360*480):9500, 9510, 9520, 9530, 9550(Storm2), 9570(Storm3), 9800(Torch), Torch2/Blackberry Pearl 3G Series (360*400) Devices Models: 9100, 9105, 9670(Style)/Blackberry 99XX (OS 7.0) Series (640*480) Devices Models: 9900, 9930
Description:
"Chocolate Chunk Apps has just made Wi-Fi on your BlackBerry more useful with WiFi Media Backup. The new app lets you automatically upload photos, videos, and voice notes from your BlackBerry to your PC in the background.... Eye-Fi on your BlackBerry. "
BerryReview
"Take photos and videos all day, arrive home, and have them waiting on your PC in minutes."
Reviewer
The first of its kind for Blackberry...
1) Take a photo, video or voice-note on your Blackberry, anywhere and anytime. The new file will be added to the "upload waiting list".
2) Return home or to the office - anywhere where you have a WiFi network and PC (our free Media Server must be installed on this PC).
3) When the app detects your home network, all files in the upload waiting list will auto-magically be uploaded to your PC over WiFi - all seamlessly in the background.
You can now instantly view all your Blackberry media on your PC - no cables, Media Manager or Desktop Manager needed.
How can I use Wifi Media Backup?:
View the day's photos and videos on your PC in minutes and without cables.
Backup all existing photos, videos etc to your PC at WiFi speeds. Even if your Blackberry & SDCard are lost, your precious media will remain.
Plus: Transfer any file (even whole folders) from BlackBerry to PC at WiFi speeds - even non-media files.
How it works:
Wifi Media Backup is made up of two parts: the BlackBerry application, and a simple lightweight PC application , the Media Server (Mac is currently not supported).
After installing the Media Server and setting up a connection to the BlackBerry you are ready to go.
Note that you can install the Media Server on as many PCs as you would like.
What you need:
WiFi network.
Wifi capable Blackberry.
Windows PC.
Note:
Blackberry uses the following format for media:
Photos: jpg (can be viewed in Windows).
Video: 3GP (we recommend VLC media player to view these).
Voicenotes: amr (a 3rd party media player/converter may be necessary such as "amr player").
Everything is automatic!- before you know it your photos etc are conveniently on your PC and ready for viewing.
Files transferred locally over wifi - so no data charges and super fast uploads.
Works for all files on your Blackberry: on SD Card or internal Blackberry memory.
Animated UI to see waiting transfers and transfer progress in real time.
Use the send option to send any file directly to your PC: great for quick BlackBerry->PC file transfers.
Inbuilt file explorer: delete, rename or select any file on your Blackberry (internal memory and SD Card).
Install our free Media Server on multiple PCs on different WiFi networks.
==============================================
Money Back Guarantee! - If you are not 100% satisfied
with this application, we will give your money back. No questions asked.
==============================================