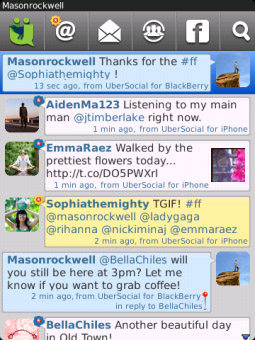 Tag:
Facebook
Twitter
UberSocial
Overview :
UberSocial v1.421 for Twitter and Facebook ( os6.0 ) - UberSocial: With so many easy-to-use features, it'll make you feel like an octopus with 8 swiss army knives.

Version: 1.421
File Size: 1 MB
Required: 6.0.0
model:
Pearl 9100 3G, Pearl 9105 3G, Curve 9300 3G, Curve 9330 3G, Bold 9650, Style 9670, Bold 9700, Bold 9780, Bold 9788, Torch 9800


Changes from 1.419 to 1.421 include:
-Fixed bug where avatars were not showing for users added to the Uber bar. You will need to remove and then re-add the users for their avatars to show up.
-Bug fixes and resource utilization improvements.