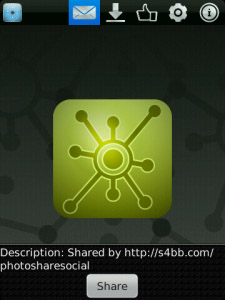 Tag:
Photo Share
Overview :
Photo Share Social v1.0 for BlackBerry® Smartphones os6.0+ apps
File Size: 1310 KB
Required Device Software:
Smartphone: 6.0.0 or higher
model: Curve 9300 3G, Curve 9330 3G, Tour 9630, Bold 9650, Style 9670, Bold 9700, Bold 9780, Bold 9788, Curve 9350, Curve 9360, Curve 9370, Storm 9500/9530, Storm2 9550/9520, Torch 9850/9860, Torch 9800, Curve 9380, Bold 9790, Torch 2 9810, Bold 9900/9930, 9981

Description:
Got snapshots you wanna share with your friends on Facebook or other social media?
Now you can do that easily with Photo Share Social. You don't have to launch individual social networking apps separately anymore. Simply launch Photo Share Social to share photos across multiple popular social media including Facebook, Twitter, BBM™ or email.
Features:
- 1-click sharing
- Multiple social media integration (Facebook, Twitter and BBM™)
If you like Photo Share Social please recommend it to your friends and leave a review. Thanks!