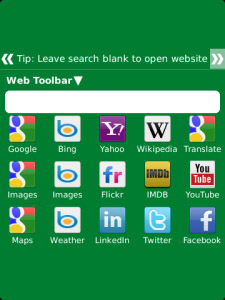 Tag:
Web Toolbar
Overview :
free Web Toolbar v1.0 for blackberry Smartphones apps
Required Device Software:
Smartphone: 5.0.0 or higher
model: Pearl 9100 3G, Pearl 9105 3G, Curve 8520, Curve 8530, Curve 8900, Curve 8910, Curve 8980, Bold 9000, Curve 9300 3G, Curve 9330 3G, Tour 9630, Bold 9650, Style 9670, Bold 9700, Bold 9780, Bold 9788, Storm 9500/9530, Storm2 9550/9520, Torch 9800

Description:
Web Toolbar is a cool application that lets you quickly search the Internet's most popular search engines. Search the web, search for images, perform a translation or check the weather the smart way.
Before Web Toolbar, you had to launch the browser, type the search engine url, find the search box, enter your search and then perform the search. Not anymore. With Web Toolbar, simply start typing your search, and click the icon for your favourite search engine. That's it.
What's more, Web Toolbar is fully integrated with the device:
- Universal Search integration: For best results, start typing on the device home screen as normal and the Web Toolbar icon will appear, giving you the option to quickly perform a search (OS6.0 and above only).
- Launch a search from the Web Toolbar menu item (accessible in most applications).
- Assign Web Toolbar to a convenience key to quickly launch a search.
Web Toolbar remembers your last search term, so you don't have to keep entering repeated searches. This option can easily disabled if not required.
Download 'Web Toolbar Free' today, try all of the features of the full app for 7 days, and then upgrade to the paid version. As well as a great app, you also get great support.
We look forward to your feedback and comments on this application.
If you like Web Toolbar, please leave us a review and let us know your thoughts. Don't forget to share the application with your friends, so they can also take advantage of all the benefits Web Toolbar provides.
Please check out other apps:
Battery Pack: monitors your battery in the background, and alerts you when the battery is full, low or critical with customizable device alerts and popups + many more features including list of running background and visible applications.
http://appworld.blackberry.com/webstore/content/12114
Follow us on Facebook:
https://www.facebook.com/pages/Mobato/144825045610450

i hope you like it.