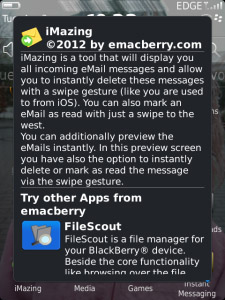 Tag:
99xx
97xx
98xx
iMazing
Overview :
iMazing v1.5.0.6 for os 5.0,6.0,7.0 apps
size: 172 KB
model: Pearl 9100 3G, Pearl 9105 3G, Curve 8520, Curve 8530, Curve 8900, Curve 8910, Curve 8980, Bold 9000, Curve 9300 3G, Curve 9330 3G, Tour 9630, Bold 9650, Style 9670, Bold 9700, Bold 9780, Bold 9788, Curve 9220, Curve 9350, Curve 9360, Curve 9370, Storm 9500/9530, Storm2 9550/9520, Torch 9850/9860, Torch 9800, Curve 9380, Bold 9790, Torch 2 9810, Bold 9900/9930, 9981
Description:
** The FREE Version of iMazing will display ONLY the latest eMail **
** YOU need to BUY (1.99 USD) a License (via In-App Purchase) in order to make use of the full functionality of iMazing (displaying a unlimited number of messages) **
iMazing is a tool that will display you all incoming eMail messages and allow you to instantly process the messages (save, preview, reply, mark as read or delete) either with a swipe gesture (touch devices) or via the trackpad. iMazing supports up to three different actions that you can adjust to your likings (swipe left, swipe right or double tap).
You can additionally preview the eMails instantly with a single touch. In this preview screen you have also the option to instantly process the message with swipe left, swipe right or double tab (reply, mark as read, delete etc...).
With iMazing you're Getting Things Done (GTD) - full stop. And of course the application is fully customizable to your requirements - starting with the option where the the message list should be displayed and ending with the configuration when an incoming email should be marked as read (see screen shots for details).
"Swiping to manage messages is iMazing!"
crackberry.com (11 Apr 2012)
See the iMazing in action @ YouTube:
http://youtu.be/Tu6Iks6jnzw?hd=1

Why is the SMS Support limited?
===============
This is quite a common question - even if it's not a big deal to register for incoming SMS messages and display them there is no way to actually process them further via the BlackBerry API (there are no API's which provide access to an SMS once it has been received and stored on the device).
To be more concrete - it's (currently) not possible for a 3'rd party application to mark an SMS as read - it's not possible via the API to delete an SMS from your inbox - these operations can only be performed by the user manually (in the SMS-Inbox). Having in mind that the core concept of iMazing is to process messages then the current SMS integration of course could only be considered as limited functionality - since you just can preview, reply or remove from the iMazing popup list (have no effect on your SMS inbox!).