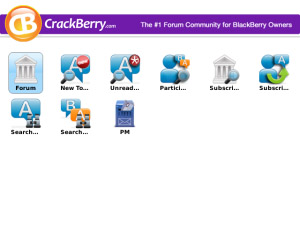 Tag:
9900 apps
CrackBerry
Overview :
CrackBerry Forums v1.0 applications for blackberry free download
file size: 865 KB
model: Curve 8520, Curve 8530, Curve 8900, Curve 8910, Curve 8980, Bold 9000, Curve 9300 3G, Curve 9330 3G, Tour 9630, Bold 9650, Style 9670, Bold 9700, Bold 9780, Bold 9788, Curve 9350, Curve 9360, Curve 9370, Storm 9500/9530, Storm2 9550/9520, Torch 9850/9860, Torch 9800, Curve 9380, Bold 9790, Torch 2 9810, Bold 9900/9930, 9981
Description:
CrackBerry.com is THE #1 BlackBerry® enthusiast community in the world, and our CrackBerry Forums application makes browsing and posting in CrackBerry's community forums fast and easy.
Need help with your BlackBerry®?
Want to learn tips and tricks?
Have a BlackBerry question you can't find the answer to?
Want to discuss the latest BlackBerry® phones and tablets?
Want to meet other BlackBerry® users to chat with on BlackBerry Messenger or BBM groups to join?
Want to help others get more out of their BlackBerry®?
Want to discover the best apps, games, themes, accessories, ringtones and wallpapers for your BlackBerry®?
You can do all of the above and more in CrackBerry's forums. With our over 3 million members, this is the place BlackBerry® users around the world converge.
Our CrackBerry Forums App is FREE OF CHARGE, and offers these great features:
- Auto-save your account information! There's no need to login every-time
- Super-fast loading of forums and topics. We're talking FAST.
- You can Create, Read, Reply and Quote discussions
- You Send and Receive Private Messages (it's true!).
- Attach files including pdfs, images and zip files
- Plus MORE!
You'll need to be on OS 5.0 or higher for the app to work.
That's it. This app is awesome. What are you waiting for? Download it today and start posting in the #1 BlackBerry® forum community in the world. We can't wait to meet you!

Come on, download this bb apps for your phone.