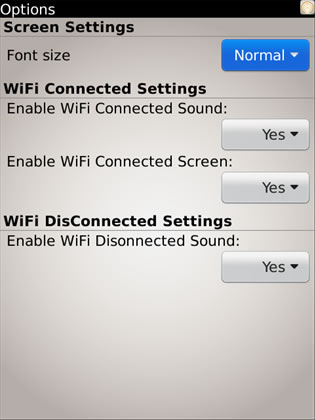 Tag:
Monitor
WiFi
Overview :
WiFi Monitor v1.0.7 (OS5.0 - 7.0)
OS:5.0 - 7.0

Model:
Blackberry 89XX Curve Series (480*360): 8900(Javelin), 8910(Atlas), 8930, 8950, 8980/Blackberry 90XX Bold (Onyx) Series (480*320) Devices Models: 9000, 9020(Onyx)/Blackberry 96XX Tour (Niagara) Series (480*360):9600, 9630, 9650(Tour2), 9700(Bold2), 9780, Dakota, Apollo /Blackberry 95XX Storm Series (360*480):9500, 9510, 9520, 9530, 9550(Storm2), 9570(Storm3), 9800(Torch), 9810/9850/9860(Torch2)/Blackberry Pearl 3G Series (360*400) Devices Models: 9100, 9105, 9670(Style)/Blackberry 99XX (OS 7.0) Series (640*480) Devices Models: 9900, 9930

Description:
WiFi Monitor is a convenient tool for those who want details about their WiFi connection. Every time you are connected to a WiFi Hotspot, you will get a comprehensive report about your connection.
Displays the following information:
BSSID
Profile Name
SSID
Data Rate
Radio Band
Signal Level
Channel
Security Category
Get the free WiFi Monitor and always be on top of your WiFi connection.
Also, check out our application: Smart WiFi (http://appworld.blackberry.com/webstore/content/4643?lang=en)
*** If you like our app, please recommend it to your friends and write a review. ***
*** BETA VERSION - BUGS MAY OCCUR - PLEASE REPORT THEM BACK ***