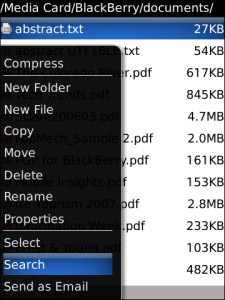 Tag:
File Manager
Overview :
File Manager Pro - Zip and File Utility v1.7.0.2
Required Device Software
4.2.1 or higher



Description
File Manager Pro, the most advanced Zip and file manager for your BlackBerry. Easily manage all of the files and zip archives on your BlackBerry with its intuitive and powerful features.
File Manager Pro enables you to do key tasks that you couldn't do before:
* Extract/unzip files received via email and edit them in native applications like Docs to Go.
* Compress/zip multiple files and folders and send them as a single email attachment.
* Manage thousands of files using searching, sorting and other advanced features.
* Create and edit text files, with Find & Replace, Spell Check (trackball only), Zoom and more.
Major Features:
* Copy, Move, Delete, Rename, New Folder, New File and Send as Email.
* Browse zip archives like folders! Extract all files or just a subset. Create new archives or append to existing ones.
* Select multiple files and folders as a range, an arbitrary set or any combination of both, and do file operations on the selected items.
* Search for files across multiple folders, even recursively, and specify case sensitive and Word Only matching.
* View files as Thumbnails, with multiple options for size and display of labels.
* Integrated Text Editor includes Find & Replace, Spell Check (trackball only), Revert, SaveAs and more.
* Use Favorites to access frequently used files or deeply nested folders with just a single click.
* Sort files by Name, Size, Type or Date in Ascending or Descending order. Control the viewing of hidden files.
* Launch files in Documents To Go and other native file applications with just a single click.
* View properties on files and folders, and modify their Read-Only and Hidden attributes.
* Fastest folder navigation available, able to easily browse folders containing 1000's of files.
* Touch screen support! With double tap and multi-touch selection and flick for fast file list scrolling (also supports trackball devices).
Download and try the free 7 day trial.