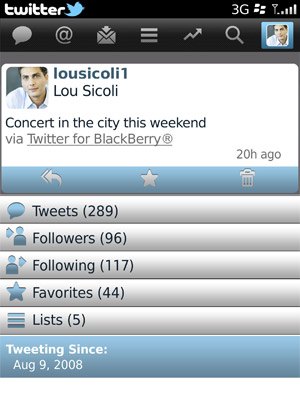 Tag:
Twitter
9800 apps
9900 apps
9780 apps
Overview :
free Twitter v2.0.0.16 for BlackBerry applications download
Required Device Software
4.5.0 or higher
Supported devices:
Blackberry 83xx, 85xx, 87xx, 88xx, 89xx, 90xx, 91xx, 93xx, 95xx, 96xx, 97xx, 9800, 9810, 9860, 9900, 9930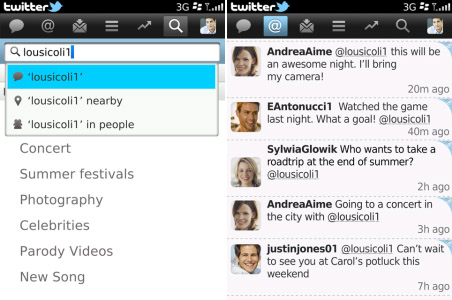 Description:
With the Twitter® app for BlackBerry smartphones, you receive a high quality, feature rich Twitter experience that allows users to share, send and receive Tweets and relevant information as soon as it happens around the world - anywhere, anytime. Choose to always show the Tweet box for easy tweeting right from your timeline, or hide it if you'd rather dedicate that space to your timeline. Find the fastest rising and newsworthy topics with the new Trending Topics icon, which now includes Local Trends and more. Share and discover – all from your BlackBerry smartphone.

Key New Feature Updates in Twitter for BlackBerry smartphones v2.0.0.16
• A lighter color scheme
• The option to hide or display the Tweet composer in the Home timeline
• Local trends support accessible from the Trends icon in the navigation bar
• My Profile icon in the navigation bar with a profile photo
• Performance enhancements
For all technical support with Twitter, please visit http://us.blackberry.com/support/software/twitter.jsp
For billing issues and technical support options related to App World only, please visit http://www.blackberry.com/support/appworld.
Direct support is unavailable through the "Contact Support" button.