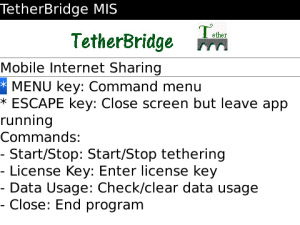 Tag:
bold
9900 apps
Bridge
curve
torch
Tether
Overview :
Tether Bridge v1.3.0 for BlackBerry Apps
Supported devices:
Blackberry 85xx, 9000, 9100, 93xx, 95xx, 96xx, 97xx, 9800, 99xx

Description
(REQUIRE TetherBridge MIS-PC software on PC!!! Sale special: one-time $19.99 license fee after trial) BlackBerry® Tether Bridge is a BlackBerry® tether app. It allows for the user to share his/her BlackBerry® data plan for getting Internet anywhere, anytime to a PC. BlackBerry® Tether Bridge does not set up a wireless IP modem tunnel through the cellular network. An IP modem tunnel such as set up by the BlackBerry® Desktop Manager consumes additional network connection resources which many carriers charge a tethering fee for in addition to data usages.
You may use BlackBerry® Tether Bridge for mobile Internet access or as a backup Internet connection in case that your primary Internet service goes down (in a storm for example).
Both Bluetooth and USB connections are supported. IPSec based VPN and L2TP are supported for corporate VPN access.
BlackBerry® Tether Bridge is easy to install and easy to use. It also allows the user to track tether data usages. The user can use the BlackBerry® as usual while tethering.
The trial period starts when the first tether session is attempted (not when the app is installed) and lasts for 5 days. Please note that the trial mode does not require a license key. A TetherBridge license key for the lifetime of one BlackBerry costs a very small one-time fee ($19.99) and can be purchased only at http://tetherbridge.com. Check our website for updated pricing.
Please see http://tetherbridge.com/Download.html FROM YOUR PC for detailed installation/operation instructions. You can install the the software for your BlackBerry device and the software for your PC from this download page. You can check out this page from your BlackBerry for info on how to install TetherBridge MIS-PC if you do not have Internet on your PC to start with.
Any charge a cellular service provider may levy is solely determined by the contract between the cellular network service provider and the service user.