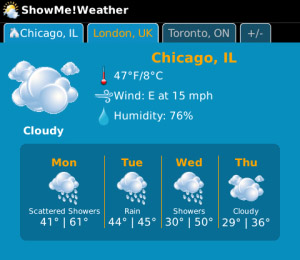 Tag:
Weather
ShowMe
Overview :
Free ShowMe! Weather updated to v2.0 with chat integration!
Compatible Devices:
BlackBerry: Bold 9000, Bold 9650, Bold 9700, Bold 9780, Curve 8300, Curve 8310, Curve 8320, Curve 8330, Curve 8350i, Curve 8520, Curve 8530, Curve 8900, Curve 8910, Curve 8930, Curve 8980, Curve 9300 3G, Curve 9330 3G, Pearl 9100 3G, Pearl 9105 3G, Storm 9500, Storm 9530/9530T, Storm2 9550/9520, Style 9670, Torch 9800, Tour 9630

Description
ShowMe! Weather is a free, convenient, light-weight weather utility. It gives you quick access to weather in multiple cities of your own choosing. It provides both the current weather conditions and a 4 day forecast.
Current Weather details include:
- Weather conditions (Icon and text)
- Temperature
- Humidity
Key Features:
- Desktop Weather Icon with current temperature
- Track the weather in multiple global* cities/locations
- Share the weather with your friends via SMS** or eMail
- User defined "Home City"
- User defined temperature scale (Celsius or Fahrenheit)
- User defined weather locations***
- User defined update timing (30, 60, 180 min, etc.)
- Weather provided by Google
- Ad supported
* Not every possible city in the world is supported
** SMS weather sharing not available on BlackBerry® OS 5.0
*** Specific global cities are manually added by users. Does not use GPS or country settings.