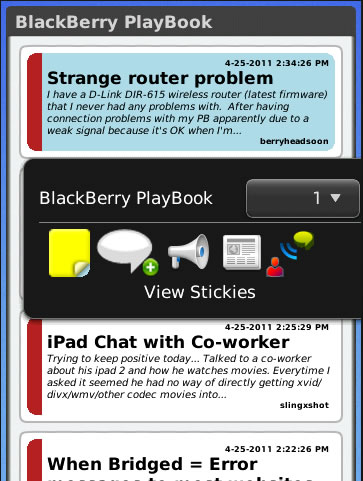 Tag:
9800 apps
9900 apps
Tapatalk
Overview :
Tapatalk Forum App v1.351(OS 6)
Model:
Blackberry 8350i (320*240) Related Devices Model: 9300(Kepler), 9330/Blackberry 96XX Tour (Niagara) Series (480*360):9780, Dakota, Apollo /Blackberry 95XX Storm Series (360*480):9570(Storm3), 9800(Torch), 9810/9850/9860(Torch2)/Blackberry Pearl 3G Series (360*400) Devices Models: 9100, 9105, 9670(Style)/Blackberry 99XX (OS 7.0) Series (640*480) Devices Models: 9900, 9930
Description:
#1 Social app in Android Market!
Top 50 Grossing App in Android Market!
Top 5 Social app in Apple App Store!
Now available for BlackBerry!
Pre-loaded with CrackBerry Forum!
Major features:
Auto-save your account information, no need to login every-time
Super-fast loading of forums and topics
Read and reply to discussions
Private Messaging
Forum and Topic Subscription
Plus many other usual forum features
*If you get an error about "Last Block Incomplete in Decryption" or "Pad Block Corrupted", try turning on "Reliable Connection" in Settings. Otherwise, please contact customer support.
* Application is only for OS 5.0 and above. If you use any OS lower than that then you will get an error about "network_api"....