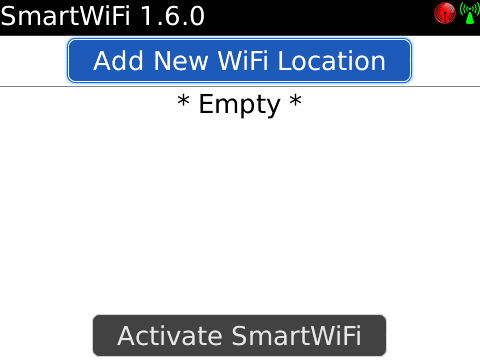 Tag:
9000 apps
SmartWiFi
Overview :
SmartWiFi v1.6 for blackberry bold 9000 apps
Model:
Blackberry 82XX Series (240x320) Pearl Flip Devices Models: 8200, 8220, 8230/Blackberry 8350i (320*240) Related Devices Model: 8500, 8520/Blackberry 83XX Series (320*240) Curve Devices Models: 8300, 8310, 8320, 8330 / Blackberry 87XX Series (320*240) Devices Models: 8700c, 8700r, 8700f, 8700g, 8703e, 8707, 8707g, 8707v .etc /Blackberry 88XX Series (320*240) Devices Models: 8800, 8820, 8830 .etc /Blackberry 89XX Curve Series (480*360): 8900(Javelin), 8910(Atlas)/Blackberry 90XX Bold (Onyx) Series (480*320) Devices Models: 9000, 9020(Onyx)/Blackberry 96XX Tour (Niagara) Series (480*360):9600, 9630, 9650(Tour2), 9700(Bold) /Blackberry 95XX Storm Series (360*480):9500, 9510, 9520, 9530, 9550(Storm2)
Description:
SmartWiFi leverages from the BlackBerry? always being connected to the network carrier. By combining cell tower and WiFi hotspot information WiFi is turned off when not needed and turned back on when needed. Because WiFi is one of the biggest consumers of battery power (when searching for WiFi networks) this has a tremendous effect on your battery life.
How SmartWiFi Saves Battery
By remembering cell tower information, SmartWiFi detects when you leave your hotspot area (e.g. home or office) and WiFi is turned off automatically. From now on you save a lot of battery power!
How to Get Connected again
SmartWiFi detects when you come back to a hotspot area (e.g. home or office) based on the network carrier's cell tower information. WiFi can be used as usual.
Features:
* Saves battery by turning off WiFi when not needed.
* Remembers the WiFi locations you use.
* Up to 100 WiFi locations supported!
* Powers WiFi back on when you are back at WiFi coverage.
* Saves battery by avoiding your device to constantly check for available WiFi hotspots.
* Displays useful information: BSSID, SSID, Data Rate, Radio Band and Signal Level.
* Supported mobile devices: GSM / GPRS, CDMA and iDEN.

Minimum Requirements:
* Minimum BlackBerry OS: 4.3

Display Dimensions
160x160, 240x160, 240x240, 240x260, 240x320, 320x240, 360x480, 480x320, 480x360
Operating System
4.3, 4.5, 4.6, 4.7 Non-Touch, 4.7 Touch Screen, 5.0 Non-Touch, 5.0 Touch Screen