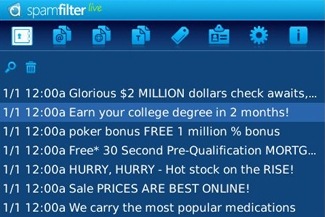 Tag:
9800 apps
9900 apps
Filter
antair
Spam
Overview :
Model:
Blackberry 71XX Series (240*260) Devices Models: 7100, 7110t, 7105t, 7100r, 7100v, 7100g, 7100x, 7100i, 7130e, 7130c, 7130g, 7130v/Blackberry 81XX Series (240*260) Pearl Devices Models: 8100, 8110, 8120, 8130/Blackberry 82XX Series (240*320) Pearl Flip Devices Models: 8200, 8220, 8230/Blackberry 8350i (320*240) Related Devices Model: 8500, 8520, 8530, 9300(Kepler), 9330/Blackberry 83XX Series (320*240) Curve Devices Models: 8300, 8310, 8320, 8330 / Blackberry 87XX Series (320*240) Devices Models: 8700c, 8700r, 8700f, 8700g, 8703e, 8707, 8707g, 8707v .etc /Blackberry 88XX Series (320*240) Devices Models: 8800, 8820, 8830 .etc /Blackberry 89XX Curve Series (480*360): 8900(Javelin), 8910(Atlas), 8930, 8950, 8980/Blackberry 90XX Bold (Onyx) Series (480*320) Devices Models: 9000, 9020(Onyx)/Blackberry 96XX Tour (Niagara) Series (480*360):9600, 9630, 9650(Tour2), 9700(Bold2), 9780, Dakota, Apollo /Blackberry 95XX Storm Series (360*480):9500, 9510, 9520, 9530, 9550(Storm2), 9570(Storm3), 9800(Torch), Torch2/Blackberry Pearl 3G Series (360*400) Devices Models: 9100, 9105, 9670(Style)/Blackberry 99XX (OS 7.0) Series (640*480) Devices Models: 9900, 9930
Description:
The best spam solution for your BlackBerry.
No more tricks or hacks involving Outlook or redirection settings just to stop the endless flow of spam into your BlackBerry.
No more sifting through hundreds of spam messages on your BlackBerry just to get to the important email that you need to get your work done.
Antair Spam Filter stops spam where it counts -- directly on your BlackBerry device. There are no dependencies on desktop application, corporate servers, third-party filtering services, or forwarding settings. Your Antair Spam Filter sits directly on your BlackBerry, and filters spam directly from your BlackBerry e-mail inbox.
Simple to use. No configuration needed.
There is no need to learn how to use a new BlackBerry mail program. In fact, you don't even need to configure Antair Spam Filter in order to use it. It works with the standard email application available on your BlackBerry, and it begins filtering spam immediately after installation. Simple and effective.
Simple to own. No subscription fees.
Antair Spam Filter installs directly on your BlackBerry device just like any other BlackBerry application. Download the free 30-day trial and try it for yourself. If you like it, you can purchase the software at any time during or after your free 30-day trial. Once purchased, you pay nothing else. There are no recurring monthly service fees of any kind. In fact, your purchase includes free support and free upgrades for one year.
Smart, effective, and unobtrusive.
The type of spam you receive may be different from the type of spam that your friends receive. Antair Spam Filter was trained with over 100,000 unique spam messages. It is smart enough to catch spam that evades other spam filters, and smart enough to leave your important non-spam messages alone.
Antair Spam Filter works with both corporate and personal BlackBerry devices. It works silently in the background, removing all annoying spam messages as they arrive in your e-mail inbox, without ever bothering you or distracting your workflow.
You never have to see spam again.
When Antair Spam Filter catches a spam message, it removes the message from the BlackBerry immediately.
You don't need to set up any special 'SPAM' email folders. You don't need to bother monitoring any limbo folders containing filtered email messages. And the last thing you need, is to have your BlackBerry device fill up with hundreds of spam messages that need to be deleted anyway.
Antair Spam Filter simply removes spam from your BlackBerry inbox, and lets you get on with your business. If you really get the urge to pay a visit to that spam message that was just filtered, you can always go and find it in your regular desktop email client -- it will be sitting there, with the thousands of other spam messages that never troubled you on your BlackBerry because of your Antair Spam Filter.
Requirements:
· BlackBerry OS 4.1 or later
Limitations:
· 30-day trial