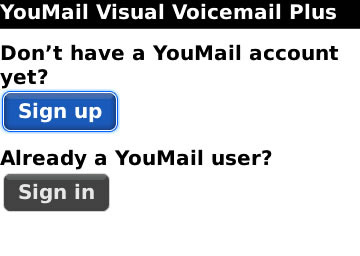 Tag:
Youmail
Visual
Voicemail
Overview :
Youmail - Visual Voicemail Apps
Model:
Blackberry 82XX Series (240x320) Pearl Flip Devices Models: 8200, 8220, 8230/Blackberry 8350i (320*240) Series: 8350i, 8500, 8520/ Blackberry 83XX Series (320*240) Curve Devices Models: 8300, 8310, 8320, 8330/Blackberry 87XX Series (320*240) Devices Models: 8700c, 8700r, 8700f, 8700g, 8703e, 8707, 8707g, 8707v .etc /Blackberry 88XX Series (320*240) Devices Models: 8800, 8820, 8830 .etc /Blackberry 89XX Curve Series (480*360): 8900(Javelin), 8910(Atlas)/Blackberry 90XX Bold (Onyx) Series (480*320) Devices Models: 9000, 9020(Onyx)/Blackberry 95XX Storm Series (360*480): 9500, 9510, 9520, 9530, 9550(Storm2)/Blackberry 96XX Tour (Niagara) Series (480*360): 9600, 9630 Niagara, 9650, 9700
Description:
YouMail is FREE visual voicemail for your Blackberry® smartphone - and much more.
YouMail unlocks your mobile voicemail:
Scroll through and play your voice messages in any order.
Forward them, save them forever, even organize them in folders.
Block unwanted voicemails.
Access your voicemail through e-mail or any computer.
Even set up personal greetings that are heard only by specific family, friends, or co-workers.
And, with YouMail's Read-It services, for a low monthly fee, simply read near-perfect transcriptions of your voicemail without having to listen to them.
YouMail works by replacing your wireless carrier's existing voicemail service with YouMail's improved, free service. It takes just a few minutes to sign up and configure.
YouMail is completely free for most AT&T Wireless, Verizon Wireless, T-mobile, and Sprint users. To avoid any extra charges, just ensure you have available minutes for calls that go to voicemail, have a text or data plan, and have set up voicemail alerts appropriately.
Unfortunately, YouMail is generally not available to users on prepaid plans, like T-mobile FlexPlay.
Feature:
Visual Voicemail
•Completely visual - see who called, from where, and even their picture (when before all you had was their number!)
•Use your smart phone or your computer - or you can still dial in like before (if you feel the need!)
•Save time - Point, click and play or delete.
Voice-To-Text Transcriptions
•Know if a message truly is urgent in situations when you can't simply dial or answer your phone.
•Read and respond to voicemail messages while in a meeting, class, movie or other busy setting.
Personal Custom Greetings
•Easily have different greetings for your sweetie, your friends, your co-workers and your boss.
•Choose from a library of free greetings or upload any sound file as a greeting.
•Even use greetings as messages for callers who don't pick up their voicemail!
Easy Voicemail Sharing
•Save time by just forwarding voicemails along - no need to take notes and then call or e-mail.
•It's effortless to instant message a voicemail to your family or friends.
•You can even post someone's drunken late night call to your MySpace or Facebook page.
Block Unwanted Callers
•Automatically hang up on unwanted callers before they can leave voicemail.
•Simple to set up with just one click!
•Easily let a pesky ex or telemarketer think your number is no longer in service.
Community Of Cool Greetings
•Choose from over a thousand greetings that'll make your callers laugh or smile.
•Or appear more professional by using our studio recorded greetings.
•Even choose greetings recorded in different languages.
Voicemail Sent To Email
•Get all your e-mail and voicemail together in one place.
•Treat your voicemail just like email - easy to forward, easy to save.
•Get voicemails even when you don't have reception on your phone.