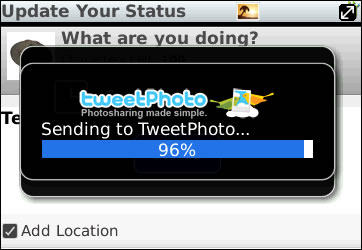 Tag:
8800 apps
TweetPhoto
Overview :
Model:
Blackberry 8350i (320*240) Related Devices Model: 8500, 8520, 8530/Blackberry 83XX Series (320*240) Curve Devices Models: 8300, 8310, 8320, 8330 / Blackberry 87XX Series (320*240) Devices Models: 8700c, 8700r, 8700f, 8700g, 8703e, 8707, 8707g, 8707v .etc /Blackberry 88XX Series (320*240) Devices Models: 8800, 8820, 8830 .etc
Description:
The ultimate media sharing app for Twitter, Facebook, and Foursquare is coming soon. There is no other media sharing app like it!
Stay instantly connected and share photos with your friends across the social web with the click of a button. See your friends photos and what is popular in this easy-to-use app.
Features Include:
•Photo Uploading
•Viewing Friends Photos
•Commenting, Favoriting and Voting
•Seeing Recent Viewers
•What's Popular Feed
•Public Photo Feed
•See Comments on Your Photos
•Find & Follow New People
•Tagging
•Zoom Photos
•Maps
•Stats
•And Much More!