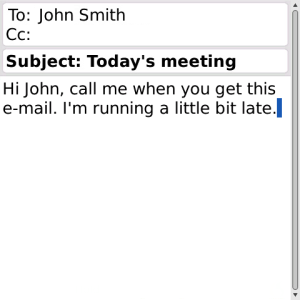 Tag:
Email
Dragon
Overview :
Dragon for Email v1.6.2
Description:
Dragon for E-Mail is an easy-to-use email dictation application powered by Dragon NaturallySpeaking that allows you to easily speak and instantly see your emails by simply dictating directly within the BlackBerry? email client.
You can just open up your email client and start dictating anytime you want to send an email message. In fact, it's up to five (5) times faster than typing on the keyboard. Dragon for E-Mail helps you to stay connected and be productive no matter where you are.
Dragon for E-mail covers your end-to-end email needs - from dictating contact names and subject lines, to dictating short or long email messages – and you can reply, compose a new message or forward one.
USEFUL LINKS:
Installation Instructions: http://www.dragonmobileapps.com/bb/dragonforemail_demo.html
Technical Support: http://technicalsupport.nuance.com/mobility
PRIVACY POLICY
In order to improve recognition accuracy and to dictate names into the Address Field, Dragon for E-Mail will only upload names from your address book when permission is provided…no emails, addresses, phone numbers, or other personal information are uploaded. This information is not used for any purpose other than improving the usability of the application. Dragon for E-Mail will also utilize the data in spoken messages to continuously improve and provide high speech recognition accuracy. All data are processed and maintained in secure data centers according to stringent privacy and security standards. For more information, please view our end user license agreement http://www.dragonmobileapps.com/EULA-email.html
Supported Carriers
AT&T
AT&T Wireless US
Nextel (USA)
Sprint (USA)
T-Mobile (USA)
T-Mobile/Former SunCom Wireless (USA)
Verizon MVNO US
Verizon Wireless (USA)
Verizon Wireless Wholesale (USA)
Verizon Wireless Wholesale - CloseCall (USA)
Verizon Wireless Wholesale - Earthlink (USA)
Compatible with all devices running os 4.2 and up
Model:
Blackberry 71XX Series (240*260) Devices Models: 7100, 7110t, 7105t, 7100r, 7100v, 7100g, 7100x, 7100i, 7130e, 7130c, 7130g, 7130v/Blackberry 81XX Series (240*260) Pearl Devices Models: 8100, 8110, 8120, 8130/Blackberry 82XX Series (240x320) Pearl Flip Devices Models: 8200, 8220, 8230/Blackberry 8350i (320*240) Related Devices Model: 8500, 8520, 8530/Blackberry 83XX Series (320*240) Curve Devices Models: 8300, 8310, 8320, 8330 / Blackberry 87XX Series (320*240) Devices Models: 8700c, 8700r, 8700f, 8700g, 8703e, 8707, 8707g, 8707v .etc /Blackberry 88XX Series (320*240) Devices Models: 8800, 8820, 8830 .etc /Blackberry 89XX Curve Series (480*360): 8900(Javelin), 8910(Atlas)/Blackberry 90XX Bold (Onyx) Series (480*320) Devices Models: 9000, 9020(Onyx)/Blackberry 96XX Tour (Niagara) Series (480*360):9600, 9630, 9650(Tour2), 9700(Bold2) /Blackberry 95XX Storm Series (360*480):9500, 9510, 9520, 9530, 9550(Storm2)/Blackberry Pearl 3G Series (360*400) Devices Models: 9100, 9105