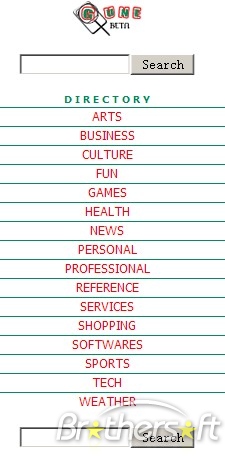 Tag:
Gune
Overview :
Gune blackberry apps
Description:
With him, a click will be enough to access by yours cellphone or smartphone to access direct Gune, to do their searches. It is free!
What does mean GUNE?
It means SITE in the language basque.
Because they used a word in basque for the name of GUNE?
Because the origin of CEO of Handcase is basque, he wanted to do a homage to the Basque Country, and the colors are of the Basque flag.
Does GUNE not accept common websites?
No, he is exclusively for mobile sites, they can be wap, or sites optimized for smartphones or cellphones.
What is meta-search?
is a search engine for databases of third parties. Was born almost together with the Internet. The most traditional are the metacrawler and webcrawler, but they were designed for the PC, GUNE is designed for phones and smartphones.
What sites GUNE use to do the metasearch?
google and Bing, but just in your mobile versions.
How does GUNE get to do searches in 2 different sites and to show in a page the best results of the 2?
Because we developed an algorithm that makes the search in the 2 and later it generates a page with the best results than each one offers.
Model:
Blackberry 72XX Series (240*160) Devices Models: 7200, 7210, 7230, 7250, 7270, 7280, 7290, 7510, 7520, 6510/Blackberry 71XX Series (240*260) Devices Models: 7100, 7110t, 7105t, 7100r, 7100v, 7100g, 7100x, 7100i, 7130e, 7130c, 7130g, 7130v/Blackberry 81XX Series (240*260) Pearl Devices Models: 8100, 8110, 8120, 8130/Blackberry 82XX Series (240x320) Pearl Flip Devices Models: 8200, 8220, 8230/Blackberry 8350i (320*240) Related Devices Model: 8500, 8520, 8530, 9300(Kepler)/Blackberry 83XX Series (320*240) Curve Devices Models: 8300, 8310, 8320, 8330 / Blackberry 87XX Series (320*240) Devices Models: 8700c, 8700r, 8700f, 8700g, 8703e, 8707, 8707g, 8707v .etc /Blackberry 88XX Series (320*240) Devices Models: 8800, 8820, 8830 .etc /Blackberry 89XX Curve Series (480*360): 8900(Javelin), 8910(Atlas), 8950, 8980/Blackberry 90XX Bold (Onyx) Series (480*320) Devices Models: 9000, 9020(Onyx)/Blackberry 96XX Tour (Niagara) Series (480*360):9600, 9630, 9650(Tour2), 9670, 9700(Bold2), 9780 /Blackberry 95XX Storm Series (360*480):9500, 9510, 9520, 9530, 9550(Storm2), 9800(Torch)/Blackberry Pearl 3G Series (360*400) Devices Models: 9100, 9105