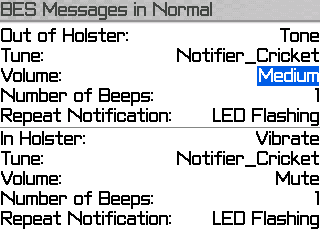 Tag:
Folders
Empower
Work
Overview :
Empower Work Folders (BES MailBox) v4.3
Description:
Separate your BES emails from your BIS emails, SMS, PIN, Browser messages etc !
If you are on BES you have a recurring problem - All your BES emails show up in the default Messages app. That means your Work emails are scattered around and intermixed with emails from all your BIS accounts, SMS Messages, PIN Messages and Browser Messages etc. Searching, sorting, filtering is a nightmare.
Not any more - Empower BES MailBox provides you a dedicated access to your work emails. Just click on it and you are shown only BES messages! No more searching for that important corporate email from among your 300 unread emails.
What's more, you can also set Folder-based alerts to receive sound notification when an important email arrives!
Clutter-free work emails are now just a click away.
Fully On-device. No Setup required.
Seamless Integration with native Email - all functions like Reply, Reply All, Forward, File, Delete, everything just works perfectly!
Launch BES MailBox directly from HomeScreen, and also from inside the standard Messages Application.
Folder-based Alerts: Sound alert for ALL BES Messages, or only for specific Folders.
Works from the oldest 7290 to the latest BOLD & STORM !
Minimum requirements:
Operating System
4.0, 4.1, 4.2, 4.3, 4.5, 4.6, 4.7 Non-Touch, 4.7 Touch Screen, 5.0 Non-Touch, 5.0 Touch Screen, 6.0 Non-Touch, 6.0 Touch Screen
Trial.
Model:
Blackberry 72XX Series (240*160) Devices Models: 7200, 7210, 7230, 7250, 7270, 7280, 7290, 7510, 7520, 6510/Blackberry 71XX Series (240*260) Devices Models: 7100, 7110t, 7105t, 7100r, 7100v, 7100g, 7100x, 7100i, 7130e, 7130c, 7130g, 7130v/Blackberry 81XX Series (240*260) Pearl Devices Models: 8100, 8110, 8120, 8130/Blackberry 82XX Series (240*320) Pearl Flip Devices Models: 8200, 8220, 8230/Blackberry 8350i (320*240) Related Devices Model: 8500, 8520, 8530, 9300(Kepler)/Blackberry 83XX Series (320*240) Curve Devices Models: 8300, 8310, 8320, 8330 / Blackberry 87XX Series (320*240) Devices Models: 8700c, 8700r, 8700f, 8700g, 8703e, 8707, 8707g, 8707v .etc /Blackberry 88XX Series (320*240) Devices Models: 8800, 8820, 8830 .etc /Blackberry 89XX Curve Series (480*360): 8900(Javelin), 8910(Atlas), 8950, 8980/Blackberry 90XX Bold (Onyx) Series (480*320) Devices Models: 9000, 9020(Onyx)/Blackberry 96XX Tour (Niagara) Series (480*360):9600, 9630, 9650(Tour2), 9670, 9700(Bold2), 9780 /Blackberry 95XX Storm Series (360*480):9500, 9510, 9520, 9530, 9550(Storm2), 9800(Torch)/Blackberry Pearl 3G Series (360*400) Devices Models: 9100, 9105