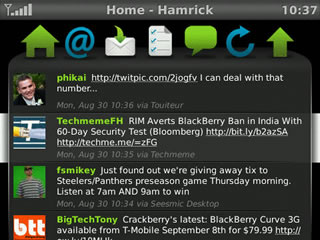 Tag:
Client
Blaq
Twitter
Overview :
Blaq v1.0 - Twitter Client 89,96,97 apps
Description:
Tired of keeping a handful of Twitter apps around on your BlackBerry smartphone just to obtain a faux sense of having it all? We are, too.
Never before has a BlackBerry Twitter client truly satisfied the user's ideal picture of the perfect, well-rounded app — until now.
Enter Blaq — a feature-rich Twitter client for BlackBerry that brings the best of all worlds with the functionality you need, but also the stunning visuals that you've always yearned for.
Download Blaq now and start experiencing Twitter — the way you should be — on your BlackBerry smartphone today.
Features:
For an up close and personal look at the inner workings of Blaq, head over to the official blog and check out our Blaq Introduction Series -- www [dot] allblaqeverything [dot] com
No Quick Tweet plug-in functionality -- Quick Tweet still available from the BlackBerry menu on all pages
No individual timeline refresh setting capability -- timelines will all update at one set interval
No simultaneous cross-account posting -- multiple account use still supported

Minimum Requirements: 9700, 96xx and 89xx compatible
Display Dimensions: 480x360
Operating System: 5.0 Non-Touch
Free version.
Model:
Blackberry 89XX Curve Series (480*360): 8900(Javelin), 8910(Atlas), 8950, 8980/Blackberry 96XX Tour (Niagara) Series (480*360):9600, 9630, 9650(Tour2), 9700(Bold2), 9780