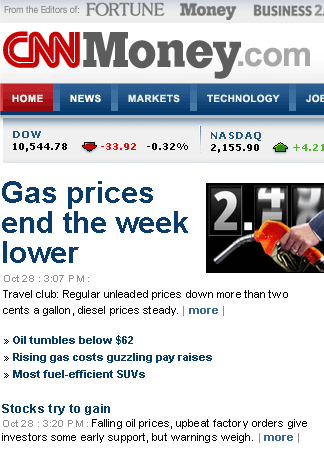 Tag:
CNN Money
Overview :
free CNN Money v3.0.4 apps for blackberry
Description:
CNNMoney: The world's leader in business and financial news is now customized for BlackBerry®.
CNNMoney BlackBerry application delivers breaking business news and comprehensive market coverage in a customizable format for your device. This application tops all others in the financial news category with real-time coverage of business news, analysis, data and charts.
Features:
Content delivered in real-time, direct from CNNMoney's news feed
Breaking News Alerts
Push capability to send Breaking News Alerts directly to your BlackBerry inbox
Customized stock quote and tracking
Stock ticker, personalized to stocks you choose to track
Market updates and index tracking
Easy-to-share articles via e-mail or Twitter
CNNMoney: A service of CNN, FORTUNE, and Money
CNN Money is powered by Polar Mobile
Model:
Blackberry 82XX Series (240*320) Pearl Flip Devices Models: 8200, 8220, 8230/Blackberry 8350i (320*240) Related Devices Model: 8500, 8520, 8530, 9300(Kepler), 9330/Blackberry 83XX Series (320*240) Curve Devices Models: 8300, 8310, 8320, 8330 / Blackberry 87XX Series (320*240) Devices Models: 8700c, 8700r, 8700f, 8700g, 8703e, 8707, 8707g, 8707v .etc /Blackberry 88XX Series (320*240) Devices Models: 8800, 8820, 8830 .etc /Blackberry 89XX Curve Series (480*360): 8900(Javelin), 8910(Atlas), 8930, 8950, 8980/Blackberry 90XX Bold (Onyx) Series (480*320) Devices Models: 9000, 9020(Onyx)/Blackberry 96XX Tour (Niagara) Series (480*360):9600, 9630, 9650(Tour2), 9700(Bold2), 9780 /Blackberry 95XX Storm Series (360*480):9500, 9510, 9520, 9530, 9550(Storm2), 9570(Storm3), 9800(Torch)/Blackberry Pearl 3G Series (360*400) Devices Models: 9100, 9105, 9670(Style)