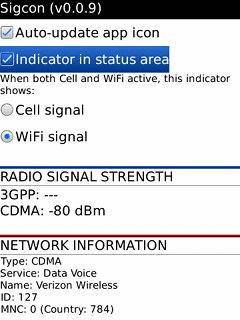 Tag:
Sigcon
Overview :
free Sigcon (WiFi and Cell signal) for Blackberry apps

Signal-meter icon and status indicator for WiFi and cellular networks. Customize icon or use one of the two built-in icons. Click for signals, radio bands, network information, and icon/label settings.
For WiFi users, the status indicator (in notifications area of homescreen) can show WiFi signal while the app icon shows Cell signal, and the icon label shows both signals.
You already have a built-in signal meter, but this was made on request for users who wanted a customizable indicator. Configure it to match your theme -- your custom icon can replace the app icon and optionally also the status indicator.
( Homescreen status indicator only available on OS 4.6 or newer. )
Other Indicons:
What's Running in My Phone?
Memcon (free memory indicator with 4 levels of recovery)
ThermoBerry (thermometer & overheat alarm)
Customizable signal-meter icon and homescreen indicator
Minimum requirements:
Operating System
4.3, 4.5, 4.6, 4.7 Non-Touch, 4.7 Touch Screen, 5.0 Non-Touch, 5.0 Touch Screen
Screenshot:

Model:
Blackberry 8350i (320*240) Related Devices Model: 8500, 8520, 8530, 9300(Kepler), 9330/Blackberry 89XX Curve Series (480*360): 8900(Javelin), 8910(Atlas), 8930, 8950, 8980/Blackberry 90XX Bold (Onyx) Series (480*320) Devices Models: 9000, 9020(Onyx)