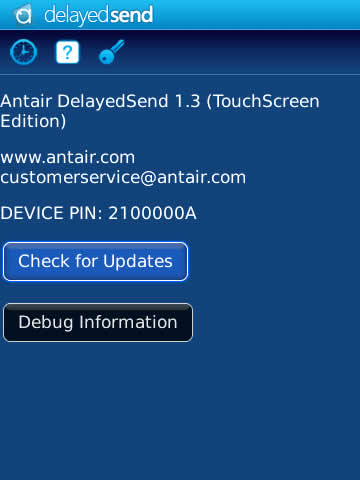 Tag:
antair
DelayedSend
Overview :
free blackberry apps : Antair DelayedSend V1.3 for Blbackberry apps
Write your email now. Have it sent later.
Antair DelayedSend allows you to create your email message, and then easily delay its sending or schedule its sending for any date and time in the future.
Antair DelayedSend makes scheduling outbound email super simple. Once you finish writing your email, instead of clicking 'Send' click 'Send Delayed', and select when you'd like the email to be sent. Antair DelayedSend will then automatically send the email at the specified date and time.
Model:
Blackberry 81XX Series (240*260) Pearl Devices Models: 8100, 8110, 8120, 8130/Blackberry 82XX Series (240*320) Pearl Flip Devices Models: 8200, 8220, 8230/Blackberry 8350i (320*240) Related Devices Model: 8500, 8520, 8530, 9300(Kepler), 9330/Blackberry 83XX Series (320*240) Curve Devices Models: 8300, 8310, 8320, 8330 / Blackberry 87XX Series (320*240) Devices Models: 8700c, 8700r, 8700f, 8700g, 8703e, 8707, 8707g, 8707v .etc /Blackberry 88XX Series (320*240) Devices Models: 8800, 8820, 8830 .etc /Blackberry 89XX Curve Series (480*360): 8900(Javelin), 8910(Atlas), 8930, 8950, 8980/Blackberry 90XX Bold (Onyx) Series (480*320) Devices Models: 9000, 9020(Onyx)/Blackberry 96XX Tour (Niagara) Series (480*360):9600, 9630, 9650(Tour2), 9700(Bold2), 9780 /Blackberry Pearl 3G Series (360*400) Devices Models: 9100, 9105, 9670(Style)