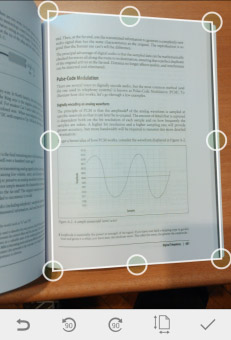 Tag:
ScanWritr
Overview :
The scanner app that allows you to write on your scanned documents - now with a brand new support for Hancom/Hangul .hwp format
ScanWritr is a fast-growing, easy-to-use professional document scanner and PDF converter. Simply scan that sheet of paper, watch as app's Edge Detection does its trick, fill out the blanks, sign it, convert to PDF and send it to the receiver via e-mail, fax, social media etc. – all within the comfort of your own mobile device!
Some of ScanWritr's features are:
●
Camera-based Document Scanner
●
Document import (MS Office, Open Office, Libre Office, Hancom/Hangul etc.)
●
Fax (requires the purchase of fax tokens)
●
Social Media Connectivity
Scan & Import
ScanWritr allows you to use the camera on your mobile device as a document scanner. The scanning is made easy with the help of advanced features of high-end portable scanner applications, such as Automatic Edge Detection and Image Enhancement. If you already have a document, you can simply import it directly from your device, e-mail, cloud etc. Since ScanWritr is also a PDF converter, the imported documents can, among many others, also be in PDF format.
Write & Fill out forms
This is a feature that makes our mobile scanner app stand out from the crowd. ScanWritr is not just a document scanner and PDF converter but also digital form filling app. Once you scanned that printed form, or opened the document from your device, it is time to elegantly fill it out using ScanWritr Text Input Feature. Is there an article, word or any other piece of data you wish to emphasize? Use the Marker Tool. Now all you need to do is to sign it using app's Signature Tool and you are ready to store and/or share it.
Store & Share
That important document is scanned or imported, automatic edge detection made its magic, the image is enhanced and the edges are sharp. You might have used the Marker Tool and you've put down your digital signature – either way our handy document scanner is safely stored on your device and can be easily accessible through app's handy document finder bar. Now you can e-mail it as PDF. Does the recipient require the document to be sent by fax? No problem – you can easily fax the document for an affordable price. Maybe you want to share it with all your friends? ScanWritr has it covered with its Social Media and Cloud Connectivity.
This free version allows you to try out all inherent features of the app. It offers unlimited amount of exports of up to 5 pages each. Exports in this version include watermarks.
Some services (i.e. faxing, converting) require a network connection, for which user's mobile carrier fees may apply.
Feel free to rate us, give us feedback and visit/follow us!
model:
BlackBerry Q10
BlackBerry Q5
BlackBerry Z10
BlackBerry Z3
BlackBerry Z30
PlayBook
Porsche Design P9982