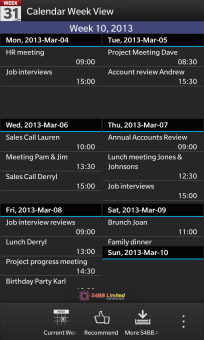 Tag:
s4bb
Calendar Wee
Overview :
Calendar Week View v1.0.0.1 for blackberry 10+ apps
File Size: 578 KB
Required Device Software Operating System: 10.0.0 or higher

Description:
Calendar Week View is a simple app that gives you an weekly overview of the calendar. Date and week number are shown. Swipe left or right to view the previous or next week. "Current Week" button brings you back to the week that you are in.
i hope you like this app.