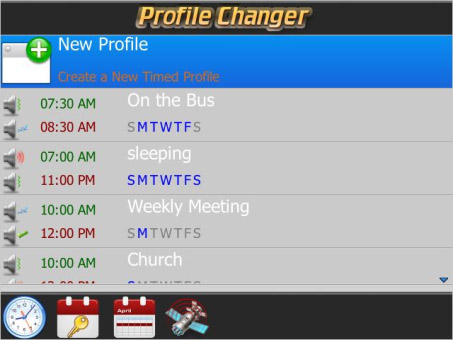 Tag:
Profile Chan
Overview :
Profile Changer v1.0.6 ( os7.0+ apps ) - We all know how embarrassing it is when our BlackBerry® Smartphone rings or make noises during important Meetings, Social Events, Church, Doctor's Office and the list goes on and on.

Version: 1.0.6
File Size: 232 KB
Required: 7.0.0 or higher
Model: Blackberry 9220, 9300(Kepler), 9320, 9330, 9350, 9360, 9370, 9380, 9620, 9790, 9350, 9360, 9370, 9850, 9860, 9900, 9930, p9981

There has never been a easy way to silent the phone or automatically switch a sound profile without intervention.
Profile Changer is designed specifically for BlackBerry® OS7.1 and higher. There are no longer any limitations when switching a sound profile like when the keyboard is locked, in the Holster or password locked. Optionally you can set to turn on and off Connections such as Mobile network, Wifi, Bluetooth, Hotspot and NFC. Turning off Bluetooth, Hotspot and NFC requires Interaction-Input Simulation permission for Profile Changer.
Profile Changer supports three different types of Profile switching.
1. Timed Profiles - This will switch the profile on the exact time during the day. You can set the Timed profile to repeat Daily or Weekly
2. Calendar Keyword - Set up Keywords in Profile Changer and then create normal Calendar appointments and have the Keyword in the Subject or Location field. Profile Changer will automatically create a new Profile and will switch the Sound Profile automatically when the appointment is up. You can even create appointments in the Future date. Added feature is you can tell Profile Change to scan the Calendar application for all the keywords and create the profiles automatically for you.
3. Location base - A powerful tool to manage sound profiles using Cell Tower information. Create different locations like Home, Office, Church, Library etc... and have the Sound profile automatically switch when you are in range and out of range.
Use VIP Contact Category rule so that you will never miss important calls again because you mistakenly left the Sound Profile on Vibrate or Silent. VIP Rule works on contact category. You can set a profile to any contact category.
With Profile Changer you will never be embarrassed again when you have your BlackBerry® Smartphone with you. If you just want a good night sleep without interruption or you just want to have a few hours of quiet time then you can count on Profile Changer.
Note: Make sure you set permissions to all allow in the Options app for Profile Changer.
Features
-----------
* Designed specifically for BlackBerry® Smartphone OS 7.1 and higher
* Supports three types of Profiles: Daily/Weekly timer, Calendar keyword integration and Location base. You can mix and match Timed profile with Location profile
* Works when the keyboard or screen is locked without user intervention
* Works when the device is in the Holster without user intervention
* Works when the device has a password lock without user intervention
* Automatically Set Profile when you charge your BlackBerry® Smartphone
* Optionally you can set to turn on and off Connections such as Mobile network, Wifi, Bluetooth, Hotspot and NFC.
* One Time Profile when you just do not want to be disturbed. You can set it from 5 minutes to 10 Hours and Profile Changer will automatically set the Sound Profile back
* Backup and Restore of all your Profiles to the SD Card. SD Card is required. Very useful when you upgrade the BBOS.
* Automatically creates Scheduled Calendar Profile when you enter a keyword when create a new appointment. Profile Changer will automatically switch Profile when the appointment happens and switch it back when the appointment is go. No more worry about your phone ringing in bad situations
* Scan the entire Calendar application for keywords so you can use your already setup appointments. You can even setup keywords in the future like next year
* VIP Contact Category rule so that you will never miss important calls when the Sound Profile is set to Silent or Vibrate
* All profiles are limited to 64