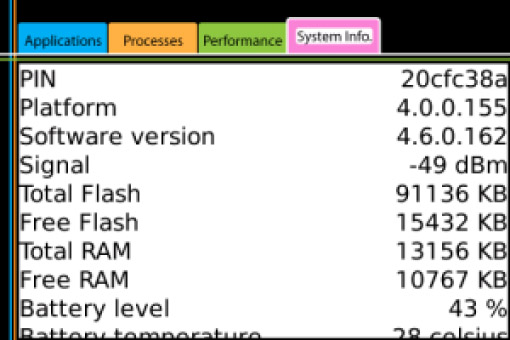 Tag:
9670 apps
Overview :
Task Manager and Process Viewer 3.1 for bb os5.0+ apps - TaskManager for BlackBerry enables you to view a list of all running applications, view performance chart over time and see detailed system info like Free Flash Memory and Battery Temperature etc. The app also allows you to drill down into each application to reveal information about its Size, Vendor, Version No. etc.

Version: 3.1
File Size: 894 KB
Required: 5.0.0 or higher
Model: Blackberry 89XX Curve Series (480*360): 8900(Javelin), 8910(Atlas), 8930, 8950, 8980/Blackberry 90XX Bold (Onyx) Series (480*320) Devices Models: 9000, 9020(Onyx)/Blackberry 96XX Tour (Niagara) Series (480*360):9600, 9630, 9650(Tour2), 9700(Bold2), 9780, 9790, Dakota, Apollo /Blackberry 95XX Storm Series (360*480):9500, 9510, 9520, 9530, 9550(Storm2), 9570(Storm3)/Blackberry Torch Series: 9800(Torch), Torch2, 9810, 9860/Blackberry Pearl 3G Series (360*400) Devices Models: 9100, 9105, 9670(Style)/Blackberry 99XX (OS 7.0) Series (640*480) Devices Models: 9900, 9930, 9981

The Paid Version also has a separate tab of Processes, where you can view the list of hidden apps and processes running in the background which are otherwise undetectable.
Please note, Killing a process on BlackBerry is technically not possible, RIM does not provides an API for this because of security reasons. The application will show you what all hidden background processes are running - you may manually close these processes.
Features:
*Application: View the list of all running apps on your device.
*Processes: View all Hidden Apps and Running Processes in Background which cannot be detected otherwise.
*Detail View: Drill down into each app to reveal its size, download date-time etc.
*Performance: View a performance graph of Battery over time.
*System Info: View important parameters about your BlackBerry like Free RAM, Free Flash Memory, Battery Temperature etc.