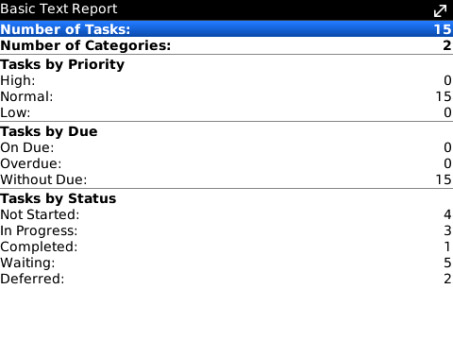 Tag:
TaskReports
Overview :
TaskReports v1.7.6 for blackberry apps - Quickly grasp an overview of all tasks and categories on your BlackBerry® Wireless Handheld.

size : 207 kb
Model:
Blackberry 89XX Curve Series (480*360): 8900(Javelin), 8910(Atlas), 8930, 8950, 8980/Blackberry 90XX Bold (Onyx) Series (480*320) Devices Models: 9000, 9020(Onyx)/Blackberry 96XX Tour (Niagara) Series (480*360):9600, 9630, 9650(Tour2), 9700(Bold2), 9780, 9790, Dakota, Apollo /Blackberry 95XX Storm Series (360*480):9500, 9510, 9520, 9530, 9550(Storm2), 9570(Storm3) / Blackberry Torch Series: 9800(Torch), Torch2, 9810, 9850, 9860/Blackberry Pearl 3G Series (360*400) Devices Models: 9100, 9105, 9670(Style)/Blackberry 99XX (OS 7.0) Series (640*480) Devices Models: 9900, 9930, 9981

Description:
Key Features:
On-device reporting of your tasks.
Analysis of your task database.
Simplified reports give you a real overview.
Currently available task report types: textual overview listing, graphical bar chart, upcoming tasks, GTD® next actions / projects / someday/maybe lists.
Compatible with desktop task applications including but not limited to Microsoft® Outlook®, iCal®, Entourage®, and more.
All tasks that can synchronized with the BlackBerry® Desktop Manager, MissingSync or PocketMac can be analyzed.
Compatible with other task applications like BlackBerry® Tasks, NextAction, TaskMaster, TaskMailer, QuickTask.
Schedule a report to be sent via email (HTML file attachment).
Scheduled report manager.
Feature Details:
View all upcoming tasks which are due today, the current week or current month.
Scheduled report manager. Scheduled email reports are sent out in background.
Scheduling periods: one time, daily or weekly basis.
A sending log keeps track of all emails the program has sent out.
GTD® reports support next actions, contexts, projects, project progress as well as someday/maybe lists*.
* Only in conjunction with NextAction for BlackBerry®.
General options: default email address and email priority can be set.