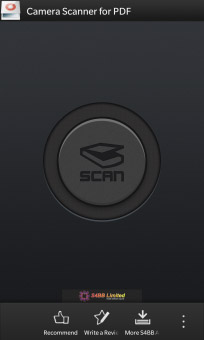 Tag:
s4bb
Camera
Scanner
PDF
Overview :
S4BB Limited has released a brand new application for BlackBerry® 10: Camera Scanner for PDF. Thanks to this handy free application you'll be able to scan and output PDF documents on-the-go. Unique about Camera Scanner for PDF is the option to protect your created PDF files with a password! Scan documents like bills & parking tickets and more on the spot, effective and hassle free!

File Size: 14 MB
Required Device Software BB10 Smartphone: 10.0.0 or higher

Description:
Need a scanner desperately but there isn't one around? Camera Scanner for PDF is your personal pocket scanner. And you can set a password to protected the scanned documents too.
Camera Scanner for PDF turns your BlackBerry® 10 smartphone into a portable scanner one that you can carry with all the time. Simply take a picture with the camera it will be automatically saved as a PDF file one that you can share right away with option to add a password for more secure sharing.
PDFs saved are all read-only that prevent the content from being copied. Password-protected PDFs could be viewed on all major platforms(PC, iOS, Android...). Makes secured document sharing much more easier than traditional scanners. Ideal for sending secure password-protected documents that can only be viewed by its intended audience (which the password should be sent separately from the document itself).
Features:
- One-click scanning with camera
- Save as PDF
- Password protection
- Read-only security protection
- Sharing via BBM, email...