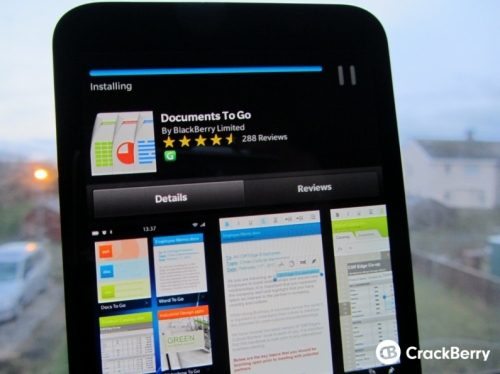 Tag:
Documents
OneDrive
Overview :
Documents To Go update to 10.12.2.15, Support for Microsoft OneDrive
Version: 10.12.2.15
File Size: 13 MB
Required: BB10 Smartphone OS 10.2.1.1055
Model: Blackberry Dev Alpha, Blackberry Z10, Blackberry Z15, Blackberry Z30, Blackberry A10, Blackberry Q30, Blackberry Q10, Blackberry Q5, Blackberry P'9982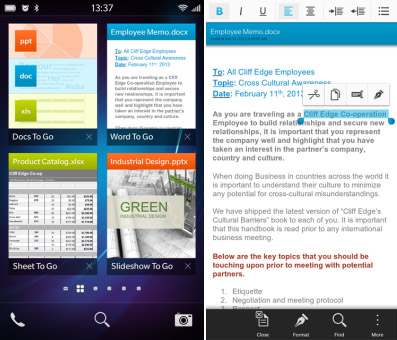 Description:
Documents To Go allows you to view and edit Microsoft Word, Excel, and PowerPoint files and attachments.
Update inventory charts in a spreadsheet, make last minute edits to a press release, give stunning presentations or get feedback from a colleague over BBM Video with Screen Share, all without a computer.
BlackBerry 10 supports the latest versions of Microsoft Office, synchronization with popular cloud providers, and InTact technology that maintains 100% of the original document formatting when you make edits on the go. BlackBerry 10 has your mobile productivity and document security covered!
- - - WORD TO GO - - -
● Rich document viewing & editing
● Insert bulleted & numbered lists
● Format font & paragraphs
● View embedded images, tables, & bookmarks
● Highlight text
● Find & replace
● Word count
- - - SHEET TO GO - - -
● Rich spreadsheet viewing & editing
● View & update charts
● Support for over 110 functions
● Quickly format cells & numbers
● Hide & adjust rows & columns
● View & apply frozen panes
● Find & replace
● View and insert cell comments
- - - SLIDESHOW TO GO - - -
● Rich presentation viewing & editing
● Over 100 slide transitions & animations
● All 150 SmartArt graphic types supported
● Edit slide text & speaker notes
● Adjust font formatting, bullets, & indentation
● Hide, reorder, & delete slides
● Find & replace
● Rehearsal mode to review, time, practice & perfect your pitch
● Present on screens or TVs using HDMI or Miracast, while you view speaker notes, time and timer on your BlackBerry device
● Navigate slides while presenting using the hardware volume keys
● Virtual laser pointer
- - - WORKS GREAT WITH… - - -
● Spell-checker, copy & paste, & password-protected files
● NFC to share files via a simple tap
● BBM Video with Screen Share to collaborate on docs with colleagues
● Dropbox, Box, OneDrive (formerly SkyDrive), SharePoint, Work Drives and BlackBerry Link to sync files across devices
● Files stored in cloud applications that can be accessed by sharing links to the files
● BlackBerry Enterprise Service 10 with BlackBerry Balance to keep corporate files secure
● Adobe Reader to access your PDF files
● Cisco WebEx to participate in online meetings and share documents on your device
● GigaTrust to view encrypted attachments and allow for increased enterprise document security
● BlackBerry Screen Reader for improved document accessibility without relying on sight