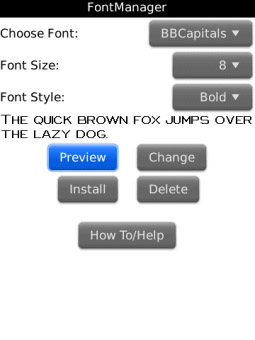 Tag:
Fonts
Overview :
free Fonts v3.0.6 for blackberry apps
Size: 69 KB
Required Device Software Operating System: 5.0.0 or higher
model:
Blackberry 89XX Curve Series (480*360): 8900(Javelin), 8910(Atlas), 8930, 8950, 8980/Blackberry 90XX Bold (Onyx) Series (480*320) Devices Models: 9000, 9020(Onyx)/Blackberry 96XX Tour (Niagara) Series (480*360):9600, 9630, 9650(Tour2), 9700(Bold2), 9780, 9790, Dakota, Apollo /Blackberry 95XX Storm Series (360*480):9500, 9510, 9520, 9530, 9550(Storm2), 9570(Storm3)/Blackberry Torch Series: 9800(Torch), Torch2, 9810, 9860/Blackberry Pearl 3G Series (360*400) Devices Models: 9100, 9105, 9670(Style)/Blackberry 99XX (OS 7.0) Series (640*480) Devices Models: 9900, 9930, 9981

Description:
Be FONTastic! Share fonts via BBM™! Manage fonts easy! Bring phone customization to a new level with thousands of free fonts accessible on Internet.
Bored with the good old fonts? Why not make your phone attractive as it deserves to be? With FontManager you can easily install new fonts and change the look-and-feel of your beloved phone.
FontManager is now BBM™ connected application, share your favorite fonts with your BBM™ friends, show off which font you are using and much more!
FontManager is the only font app, that won't force you to reinstall fonts after phone reboot!
Achievements:
- 2011 BlackBerry® Developers Challenge: Incentive prize in competition "Most Addictive social app using the BBM Social Platform"
- Voted "Best Bulgarian BlackBerry Consumer Application of 2011" by MobileMonday Sofia
- One of the ten apps chosen by US carrier Sprint for a free giveaway for any Sprint user
Features:
* Change font style, type and size with just a click
* Manage fonts:
** Install fonts
** Delete fonts
** Preview fonts
* Font size from 5px up to 20px
* Support for archived fonts (.zip archive)
* Support for Indonesian (Bahasa Indonesia), Japanese, Korean, Chinese, Hebrew, Arabic and Slavic (Russian, Bulgarian, Serbian etc.) fonts
* 8 different font styles (including Fantasy and Dotted Underlined)
* BBM™ connected app:
** Share fonts with your friends
** Automatic BBM™ status update
Note: System fonts (preinstalled fonts) cannot be deleted
Note: New fonts should be in *.ttf format (TrueType Unicode) and should not exceed 90k in size.
Note: FontManager does not contain any fonts, it allows the user to install and delete fonts downloaded from Internet