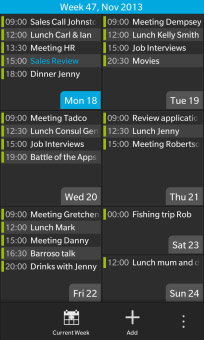 Tag:
s4bb
Calendar
Week View
Overview :
Yet another S4BB Limited application has been Built for BlackBerry™ designated: Calendar Week View! In addition to this quality assuring achievement, the app also received an update. Calendar Week View provides these features to its users:
Instant overview of one's events per week
Zoom into a single day in detail
High performance for calendar power users
Create an event for any day
NEW: Splash screen added
NEW: Upgrade to pro button added in menus
Calendar Week View is compatible with all BlackBerry® 10 Smartphones and is available for FREE at BlackBerry World™.
Version: 1.1.2.3
File Size: 7 MB
Model:
Blackberry 10 Devices: Blackberry Dev Alpha, Blackberry Z10, Blackberry Z15, Blackberry Z30, Blackberry A10, Blackberry Q30, Blackberry Q10, Blackberry Q5
enjoy.