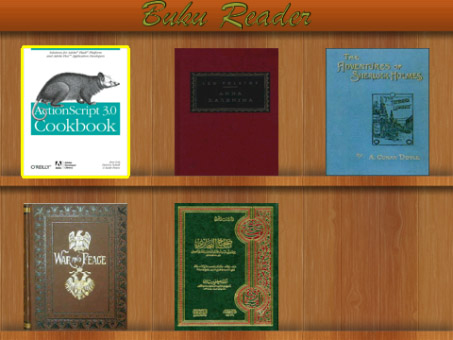 Tag:
Buku Reader
Overview :
Buku Reader 1.2.13 for blackberry apps
File Size: 1.28 MB
Required Device Software Operating System: 5.0.0 or higher
Model:
Blackberry 96XX Tour (Niagara) Series (480*360):9600, 9630, 9650(Tour2), 9700(Bold2), 9780, 9790, Dakota, Apollo /Blackberry 95XX Storm Series (360*480):9500, 9510, 9520, 9530, 9550(Storm2), 9570(Storm3) / Blackberry Torch Series: 9800(Torch), Torch2, 9810, 9860/Blackberry Pearl 3G Series (360*400) Devices Models: 9100, 9105, 9670(Style)/Blackberry 99XX (OS 7.0) Series (640*480) Devices Models: 9900, 9930, 9981

Description:
Buku Reader is an epub reader & text Reader (DRM-free epub) for BlackBerry®
Buku Reader allows you to import epub and text files from your SDCard and read them using Buku Reader.
video demo: http://www.youtube.com/watch?v=O1EkjKUR1zg
*bugs fix for some devices with resolution higher than 480px width (BlackBerry OS 7)
*new bigger font size
*prevent turn off screen when reading a book (remove backlight time out)
*Please make sure you are using BBM 6* (if you are encounter "Module 'net_rim_bb_qm_platform" not found" error, than you must upgrade your BlackBerry Messenger Application to version 6/latest version)
*Now you can download directly hundreds epub files for free from Buku Reader Application*
Features:
0. Download hundreads epub files for free (constantly updated)
1. Read most non-DRM protected EPUB books
2. Display image, and styling (italics, bold and heading)
3. Supports both landscape and portrait mode for touch device
4. Night Mode
5. Customizable font size
6. Bookmarks
7. Table of Content
8. Many different transition animation (left-right, top-bottom, clockwise, counterclockwise, etc)
9. Color scheme
10. BBM Connected App: Discuss your book with your friend & invite them to download this app via BBM
11. prevent turn off screen when reading a book (remove backlight time out)
13. Support for BlackBerry OS 7
12. supported languages:
Basque, Bulgarian, Catalan, Croatian, Czech, Danish, Dutch, German, Greek, English, Esperanto, Estonian
Finnish, French, Icelandic, Indonesian, Italian, Latin, Latvian, Polish, Portuguese, Romanian, Russian, Slovene, Spanish, Swedish, Turkish, Ukrainian, Welsh
instructions:
1. download Buku Reader for BlackBerry Appworld.
2. make sure you have ebook in epub format in your sdcard
3. open book library in your application
4. activate & authorize BBM Connected Application
5. Import epub from library screen, from menu-import book
6. click book cover to open & read the book
7. discuss your book from library screen-menu-discuss (discussion done in BlackBerry Messenger)
8. Invite your friend to download this app from BlackBerry Appworld: from library screen-invite download
9. Settings: in Library Screen, open menu-settings. in Book Reader Screen, klik trackwheel.