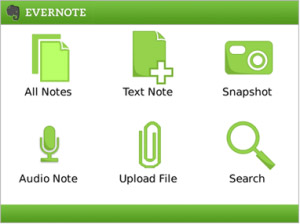 Tag:
BB10
Evernote
Overview :
HI, welcome to Evernote.
Evernote
is a way to capture all your experiences, and access them from anywhere, Type a note, store documents, Record audio, Capture a photograph or any other moment you want to remember, Evernote saves and synchronizes, your digital life across all yoour devices, No matter where you are Evernote is with you, Use it to stay more organized, Plan your next trip, Design and manage a project, Clear your paper clutter, Capture a moment, and always find what you need, Life is full of experiences, and Evernote, helps you capture, manage and remember them all.

Model: BlackBerry Q10, BlackBerry Q5, BlackBerry Z10, BlackBerry Z30, Porsche Design P9982
Evernote turns your BlackBerry® into an extension of your brain.
This award winning app lets you remember and recall anything that happens in your life. From notes to ideas to snapshots to recordings, put it all into Evernote and watch as everything instantly synchronizes from your BlackBerry® to the Web to your Mac or Windows desktop.
Easily search for notes created on your desktop or web using your BlackBerry®. Whether from last week or last year, all your memories are in one place, available whenever you need them. You can even search for printed or handwritten text within your snapshots - great for business cards, whiteboards, and wine labels.
How to use Evernote
There are tons of ways to use Evernote for your personal and professional life. Here are some ideas:
- For research and class notes
- For client and sales meetings
- To stay in-sync with your desktop notes, web clips, and files
- To snap photos of whiteboards and business cards
- As part of your GTD system to help you stay organized
- To record quick voice memos
In short, to remember everything.