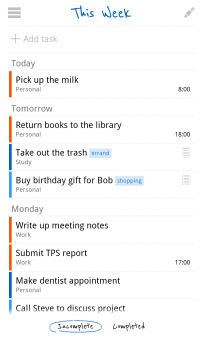 Tag:
BB10
Milk
Overview :
Remember The Milk is a cross-platform veteran GTD software, there are a lot of user on OS7. Its benefits can be multi-platform online synchronization. The software on the BlackBerry Z10 recently launched a free version, however,it is a application that through the Android coverstion applications. But according to the test without any problem, should can be at ease use. After all, Z10 business sense make him more feeling to start the work of GTD.

File Size: 2 MB
Required Device Software Tablet: 2.0.0 or higher
BB10 Smartphone: 10.0.0.0 or higher

Description:
Take your to-do list anywhere with this feature-packed app; never forget the milk (or anything else) again. Remember The Milk (RTM) for BlackBerry 10 connects with the popular online service of the same name. With millions of users worldwide, Remember The Milk is everywhere you are: from your phone, to the web, to your Google apps, and more.
"This app represents mobile task management at it finest." - Mashable
Key Features:
• Add and complete tasks on the go.
• Sync with Remember The Milk online (limit once every 24 hours). Great for backing up your tasks and notes.
• Organize the way you want to with priorities, due dates, time estimates, repeating, lists, tags, and more.
• Search your tasks and notes, and save your favourite searches as Smart Lists.
• See tasks nearby and plan the best way to get things done.
• And more! See www.rmilk.com/bb10 for details.
Pro Features:
★ Unlimited auto-syncing with Remember The Milk online.
★ Keep in sync with your tasks on multiple devices.
★ Get reminded with notifications for tasks due or nearby.
★ And more! See www.rmilk.com/pro for details.
Follow Us For Updates:
twitter.com/rememberthemilk
facebook.com/rememberthemilk
blog.rememberthemilk.com