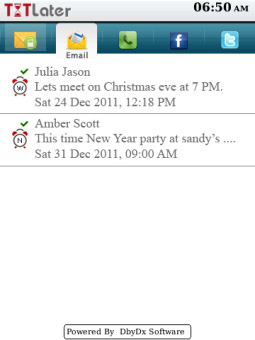 Tag:
TXTLater
Overview :
TXTLater v3.0.1 for blackberry os4.5 - 7.x apps
File Size: 747 kb
Required Device Software Operating System: 4.5.0 or higher
Model: Blackberry 81XX Series (240*260) Pearl Devices Models: 8100, 8110, 8120, 8130/Blackberry 82XX Series (240*320) Pearl Flip Devices Models: 8200, 8220, 8230/Blackberry 8350i (320*240) Related Devices Model: 8500, 8520, 8530, 9300(Kepler), 9320, 9330, 9350, 9360, 9370, 9380/Blackberry 83XX Series (320*240) Curve Devices Models: 8300, 8310, 8320, 8330 / Blackberry 87XX Series (320*240) Devices Models: 8700c, 8700r, 8700f, 8700g, 8703e, 8707, 8707g, 8707v .etc /Blackberry 88XX Series (320*240) Devices Models: 8800, 8820, 8830 .etc /Blackberry 89XX Curve Series (480*360): 8900(Javelin), 8910(Atlas), 8930, 8950, 8980/Blackberry 90XX Bold (Onyx) Series (480*320) Devices Models: 9000, 9020(Onyx)/Blackberry 96XX Tour (Niagara) Series (480*360):9600, 9630, 9650(Tour2), 9700(Bold2), 9780, 9790, Dakota, Apollo /Blackberry 95XX Storm Series (360*480):9500, 9510, 9520, 9530, 9550(Storm2), 9570(Storm3) / Blackberry Torch Series: 9800(Torch), Torch2, 9810, 9860/Blackberry Pearl 3G Series (360*400) Devices Models: 9100, 9105, 9670(Style)/Blackberry 99XX (OS 7.0) Series (640*480) Devices Models: 9900, 9930, 9981

Description:
TXTLater schedules SMS, Email, Calls, Facebook Posts (to your & your friend's wall) & tweets to be sent /invoked later at a future date directly from your BlackBerry®!
TXTLater allows to send at chosen date, time, and recurrence e.g. once, daily, weekly, monthly, and yearly .
Schedule directly from your Contact, Email, Message & Calendar applications.
Using TXTLater is easy: simply save your message and schedule it to be sent later automatically! TXTLater looks and behaves exactly like a standard BlackBerry messaging application, but in addition, it gives possibility to plan your SMS and Email messages in the future. TXTLater enables you to send scheduled SMS and Email messages and make scheduled calls to one or multiple recipients. This application is tightly integrated with your contact book, calendar, and native messaging user interface. You also get detailed delivery reports of all the past messages. You can edit, delete, or re-schedule the SMS and Email messages and calls at any time by opening the main interface of the application. Various types of recurrence e.g. daily, weekly, monthly, and yearly are supported in TXTLater.
TXTLater is for you if:
you need to send a birthday/Season s greetings and don t want to forget about it,
you need to send Email and SMS messages to person in USA from Europe at times when he/she doesn t need to wake up to read it, - you need to schedule birthday wishes to your friend's Facebook wall,
you need to make an urgent business CALL in future and want to make sure you don't forget it.
you would like to send a calendar entry with appointment information to remind somebody about the upcoming meeting eg. 4 hours before the meeting starts ,
you need to send a meeting reminder.
you need to fully automate the process of sending messages on schedule,
you want to send an SMS, EMAIL or initiate CALL at the selected time and date