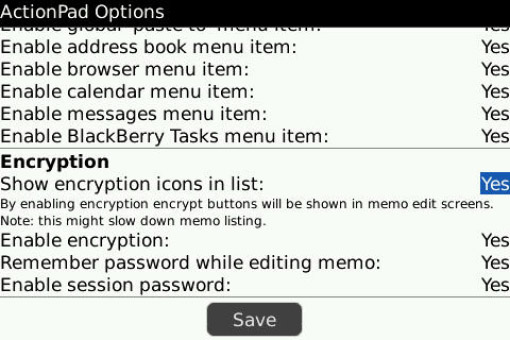 Tag:
Action Pad
Overview :
Action Pad v1.5.5 ( os6.0+ apps )

ActionPad is a replacement application for the original MemoPad. It provides quick access to memos for boosting your productivity and memo encryption to ensure security.
Core Features:
★ Title & Content Search: Start typing and all memos in the current category are searched.
★ 1-Click Category Switch: By hitting space on the category selection, you rotate over all categories. It saves tremendous amount of time compared to the filter setup that needs to be done with original BlackBerry® MemoPad™ application.
★ Hotkeys: With just one keystroke it is possible to navigate within the memo list, e.g. jump to the top/bottom of the list. More hotkeys increase productivity dramatically.
★ Share Memos: No matter if by SMS or Email, every memo can be sent out.
★ Memo Encryption: Protecting content is very crucial for a note taking application. ActionPad provides the highest level in security standards that is available. By using AES encryption with a 128 bit key and an MD5 digest your memo data is as secure as the U.S. government's most confidential data.
★ BlackBerry® Integration: Powerful native BlackBerry® integration is crucial for any application that has the goal of boosting the user's productivity. "Paste to ActionPad": pastes the clipboard content into a new memo. "Send to ActionPad" converts an Address Book contact, Calendar event, Browser URL, task, SMS, MMS, PIN and email messages to a new memo with just one click.
★ Desktop Synchronization: compatible with Microsoft® Outlook®, Entourage®, Entourage® 2008; Apple: OS X Mail Notes™, Stickies Notes™, PocketMac SecureNotes, and more. All memos can be synchronized with the BlackBerry® Desktop Manager, MissingSync or PocketMac.
This product comes with a 30 day value back guarantee. More info: http://s4bb.com/returnpolicy.

Version: 1.5.5
File Size: 159 KB
Required: 6.0.0 or higher
Model: Blackberry 96XX Tour (Niagara) Series (480*360):9600, 9630, 9650(Tour2), 9700(Bold2), 9780, 9790, Dakota, Apollo /Blackberry 95XX Storm Series (360*480):9500, 9510, 9520, 9530, 9550(Storm2), 9570(Storm3) / Blackberry Torch Series: 9800(Torch), Torch2, 9810, 9860/Blackberry Pearl 3G Series (360*400) Devices Models: 9100, 9105, 9670(Style)/Blackberry 99XX (OS 7.0) Series (640*480) Devices Models: 9900, 9930, 9981