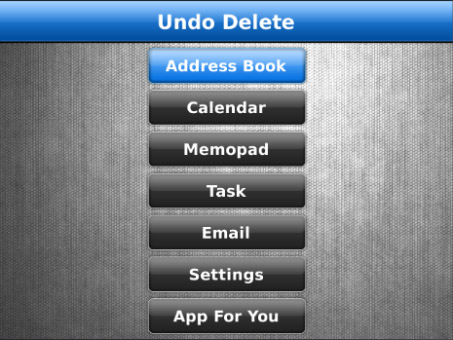 Tag:
Undo Delete
Overview :
Undo Delete v1.3 for os5.0-7.x apps – Undo Delete will restore your last deleted email, memo, task, contact or calendar entry.
* Undo the delete action you just performed
* Restore deleted contacts, memo, tasks, emails or calendar entries
* Easy and interactive User Interface
* Recycle Bin like app for your Blackberry
* Notification to let you know when ever the deleted item is moved to Bin
NOTE: Due to technical limitations only Contacts, Memos, Tasks, Emails and Calendar can only be restored. Deleted Emails are restored in Drafts folder due to technical limitations. To find your Email go to the particular Email Account Folder and filter the Drafts from selecting – Filter – Drafts from menu options. Other items can be restored as original items.
How To Use:
Go to the app, Select the category, click on the item to restore it back.
Version: 1.2
File Size: 701 KB
Required: 5.0.0 or higher
Model:
Blackberry OS 7.1 Series: P'9981, 9860, 9850, 9810, 9620, 9360, 9350, 9320, 9315, 9310, 9220, 9930, 9900, 9720, 9790 / Blackberry OS 7.0 Series: P'9981, 9860, 9850, 9810, 9380, 9370, 9360, 9350, 9930, 9900, 9790 / Blackberry OS 6.0 Series: 9800, 9670, 9105, 9100, 9330, 9300, 9780, 9700, 9650 / Blackberry OS 5.0 Series: 9630, 9800, 9530, 9500, 9550, 9520, 9105, 9100, 9330, 9300, 8980, 8900, 8530, 8520, 8350i, 8330, 9700, 9650, 9000