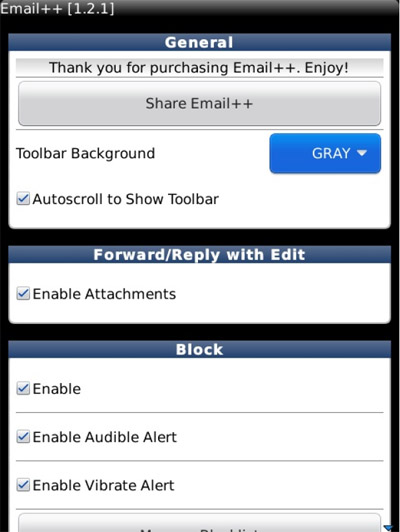 Tag:
Email
Overview :
Unlock the full potential of your BlackBerry® email experience today with Email++ - A fully integrated graphical toolbar for the native BlackBerry Email app with features such as Convert To, Forward/Reply with Edit, Unsend, Priority, Block/Filter, Templates, Auto Get Imges, My Availability and My Location. Email++ also features Microsoft Outlook like Message Preview no matter on which screen (including the Homescreen) you are on. Tired of fragmented plugins that show up as mere menu items in the email app and are hard to find and use? This is the last and only email plugin you would ever need and love email like never before.
SUPPORT GUARANTEE
Emailing is believing! Try emailing our support staff at support@devcellent.com and get a response within hours in 99% of the cases. We have fixed 100% of the issues so far. Don't take our words for it but ask others who emailed.
RELEASE NOTES v 2.5.1
* Performance Improvements
* Icon hidden from task switcher
FEATURES
- Convert To: Instantly convert emails into Appointments, Meetings, Memos or Tasks.
- Forward/Reply with Edit: Respond to or forward emails with attachments and yet be able to edit the original message or even remove the original message.
- Unsend: Avoid send accidents. Unsend your sent emails before going oops!!
- Set Priority: Set priority of new emails as well as emails that are already in your inbox. A great way to flag messages.
- Block: Block/filter emails by address or subject (exact or keyword based) with customizable actions such as Move To Junk, Delete and Mark Read.
- My Availability: Get your availability for a specific day or a week.
- My Location: Instantly get your GPS/Cell tower coordinates, address and a map url with you on it and include it in your email.
- Message Preview: Microsoft Outlook like popups no matter on which app you are, with instant action buttons such as Delete, Mark Read and View.
- Templates: Convert any emails to a template and reuse them over and over again.
- Image Download: Configure to download images automatically in HTML emails.
- Each feature is fully customizable to suit your needs via the Email++ Preferences screen.
FREE FUTURE UPGRADES
You only need to purchase once. All future feature enhancements and upgrades will be made available at no cost.
SPREAD THE GOOD NEWS AND WIN FREE APPS
- Click on the "Share Email++" button from the Email++ preferences screen.
- Or simply share using one of the social buttons below.
- Mention/Follow us @Devcellent via twitter.
- Like Devcellent Solutions Inc. on Facebook.
- We will reward our top social activists with free copies of our future apps.

Suitable for all BlackBerry models.