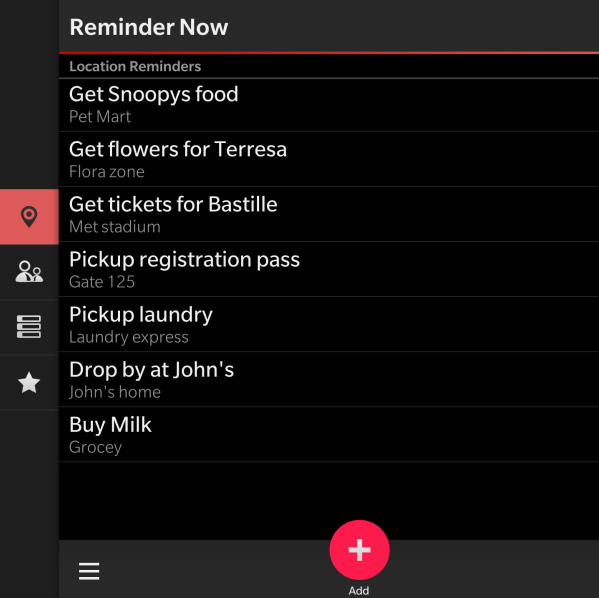 Tag:
Reminder
Overview :
Reminder Now 5.1.0.1 for blackberry 10 apps
*Emberify Birthday Sale 66% Off*
Reminder Now is a contextual reminder app. With people and location based reminders, Reminder Now builds on the native BlackBerry experience of the Remember app.
Key features:
- Location based reminders- To remind you when you go to the selected place
- People based reminders- Reminders on an SMS/Email from the selected contact
- List of things
- Runs in the background(headless)
- Integrated with the hub
- Favourite Places
- 2 step reminder creation
- Adaptive theme
- BlackBerry Maps Integration
- Supports the BlackBerry Z10, Q10, Q5, Z30, Z3, Classic, Passport and the BlackBerry Porsche Design devices
Using Location based reminders you can keep in track of your to-do list based on locations. Like when you are passing by the grocery store you can be reminded to buy milk. It works on geofences with radius. Integrated with BlackBerry Maps.
With people based reminders, keep track of conversations that need to be extended when you receive an email or SMS from the contact. Like on your next email with your business client you can be reminded on what all needs to be discussed.
Supported Devices:
BlackBerry Classic
BlackBerry Leap
BlackBerry Passport
BlackBerry Passport Silver Edition
BlackBerry Q10
BlackBerry Q5
BlackBerry Z10
BlackBerry Z3
BlackBerry Z30
Porsche Design P9982
Porsche Design P9983