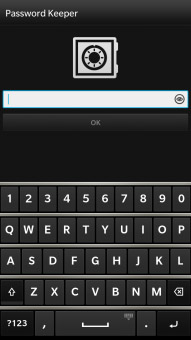 Tag: Keeper Password
Overview :


Blackberry classic password manager, but in BBW Search Password Manager is not found. This version than I am stronger in 8320 that most of the most important is that you can import and export encryption password, this is the party's gospel Brush.



Supported Devices:

BlackBerry Q10

BlackBerry Q5

BlackBerry Z10

BlackBerry Z3

BlackBerry Z30

Porsche Design P9982

Description:

Password Keeper is an application to keep all your passwords, logins, and other information safe and secure. It allows you to store all that information in a single location for easy access and reference. Your information is encrypted and protected by a single user-determined password. You can also import your Password Keeper data from a previous BlackBerry device so you can start using the application right away!

Key Features:

• Import Password Keeper data from a previous BlackBerry device

• Single Password Keeper password

• Records are encrypted using AES 256

• Auto lock

• Create, edit, delete records

• Edit labels

• Search

• Copy username and password

• Random password generation

• Set records as Favorites

• Landscape view support

• Duplicate existing records for faster entry

• Ability to lock Password Keeper within the application

• Support for adding security questions and answers

• Quickly add a new record if a search item is not found

• Ability to clear the clipboard

• Password strength meter helps to make sure your passwords are strong

• Navigation improvements, including quick actions and an index scroll bar for long lists

• Start a Password Keeper search from a universal search.