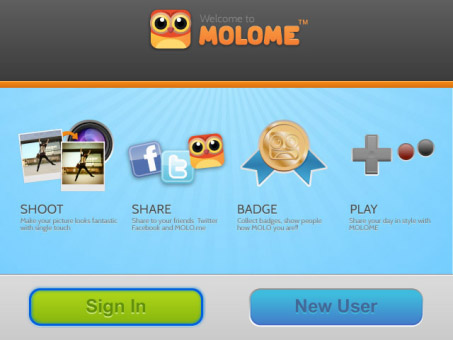 Tag:
MOLOME
Overview :
free MOLOME 2.2.4 for blackberry apps download
size: 1.73 mb
Model:
Blackberry 89XX Curve Series (480*360): 8900(Javelin), 8910(Atlas), 8930, 8950, 8980/Blackberry 90XX Bold (Onyx) Series (480*320) Devices Models: 9000, 9020(Onyx)/Blackberry 96XX Tour (Niagara) Series (480*360):9600, 9630, 9650(Tour2), 9700(Bold2), 9780, 9790, Dakota, Apollo /Blackberry 95XX Storm Series (360*480):9500, 9510, 9520, 9530, 9550(Storm2), 9570(Storm3) / Blackberry Torch Series: 9800(Torch), Torch2, 9810, 9860/Blackberry Pearl 3G Series (360*400) Devices Models: 9100, 9105, 9670(Style)/Blackberry 99XX (OS 7.0) Series (640*480) Devices Models: 9900, 9930, 9981

Description:
MOLOME™ is a easy & fun way to share your journey of life. Grab your phone, shoot a photo, choose from our 14 amazing filter effects and share it with your friends and family.
You will also meet with MOLO, our sweet, lovely and energetic owl. MOLO will help you to have more fun shooting photo, applying his magical filters, and share your photos on MOLOME™ community, Twitter and Facebook page.
MOLO will notify you when someone "Love" or comment your photo. That's not all! This little owl got a special gift for those who shoot nice and lovely photos too.
Install now and join us, and start sharing great moments from your journey of life. It is easy & fun.
Key Features
♡ Fast camera access for instant sharing
♡ 14 magical filters, including the all time popular Vignette, Parlo, Croosy, Old Paper, Vintage, Sepia and Black & White
♡ New filters for MOLOME™ Blackberry release: Rainbow
♡ Sharing to MOLOME™ network, Facebook and Twitter
♡ Earn Badges
♡ Follow and view Friends' photos
♡ View Popular photos
♡ Love and comment photos
♡ Notification
♡ Easy view and update your own profile & photo
♡ Optimize performance for Blackberry devices
♡ Fast upload speed
♡ 100% free and unlimited photo uploads
♡ 640x480 screen resolution are fully supported
MOLOME™ is a cross-platform photo sharing social network for smartphone users worldwide. It is free and it will always be free for everyone to use. Join us!
Proudly develop by HLP International, Inc.