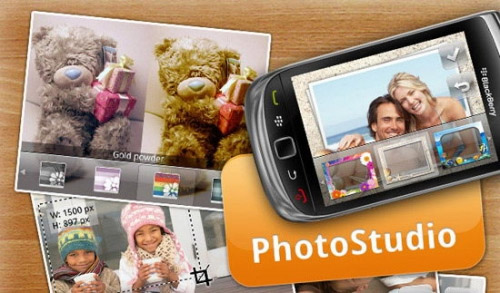 Tag:
Photo Studio
Overview :
PhotoStudio is a super the BlackBerry photo processing software tools, practical image processing tools in the BlackBerry, the latest version is updated to v.1.0, the new version fixes some of the bugs, detailed update log is as follows:
• featured text editor.
• Add texture modules, and other special effects.
• Designed for full keyboard phone design palette function.
• the zone automatic image processing functions.
• BUG repair, optimization, and so on.

size: 3.76 mb
model: Pearl 9100 3G, Pearl 9105 3G, Curve 8520, Curve 8530, Curve 8900, Curve 8910, Curve 8980, Bold 9000, Curve 9300 3G, Curve 9330 3G, Curve 9350, Curve 9360, Curve 9370, Tour 9630, Bold 9650, Style 9670, Bold 9700, Bold 9780, Bold 9788, Storm 9500/9530, Storm2 9550/9520, Torch 9800, Torch 9850/9860, Torch 2 9810, Bold 9900/9930

Description:
Photo Studio for BlackBerry® is utilized by both amateur and professional photographers who seek simple, but powerful image processing on-the-go. Users can turn their BlackBerry® into a fantastic photo editing studio.
Main features:
- BBM Connected! Share your photos directly from Photo Studio.
- Base photo operations: brightness, contrast, RGB color adjustment, hue, saturation and transform operations: resize, rotate and crop.
- 115 unique filters in categories: "Simple toning", "Old Style", "Vintage", "Summer mood", "Sketch", "Lomo", "Blur" and "Art".
- 12 special effects.
- Apply set of beautiful digital frames to your photos with packs: "Christmas Frames 1", "Christmas Frames 2", "Frames Pack 1", "Valentine's Day Frames" and "Summer Frames Pack".
- PicFrames helps you combine multiple photos into amazing looking frames with 60 templates.
- Color Splash editor: create stunning artwork with your photos by removing or changing colors!
- Magic tools: auto-levels, sharpening, red-eyes correction.
- Share photos with Facebook, Twitter and Messages applications installed on BlackBerry.
- Open API for developers: now you can integrate your application with Photo Studio.
- Supported languages: English, German, Spanish, French, Russian and Dutch. Contact us if you want localization to your native language.
- PRO version includes unlocked packs "Filters Pack 1", "Frames Pack 1", "Christmas Frames 1", "Christmas Frames 2", "Valentine's Day Frames", "Color Splash editor", "Summer Frames Pack", Magic Tools and "PicFrames".