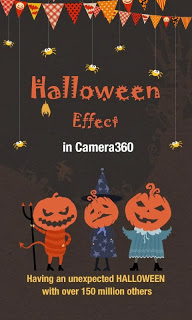 Tag: Ultimate Camera360
Overview :
Camera360 Ultimate is a powerful software mobile phone photography. Because of its abundant filter effects, it won the majority of mobile phone users' praise. For most users, Camera360 Ultimate has become a preferred shoot App that replace the machine taking photo application.



Version: 4.7




Model:

Blackberry 10 Devices: Blackberry Dev Alpha, Blackberry Z10, Blackberry Z15, Blackberry Z30, Blackberry A10, Blackberry Q30, Blackberry Q10, Blackberry Q5

Description:

Camera360 provides a comprehensive suite of professional yet fun mobile photography options.

To make your life even easier, Camera360 has introduced Camera360 Cloud, a cloud platform that can help you manage, edit, store, and share your photos all in one place. Join the millions of users who have already uploaded over 300 million photos in enjoying these FREE services!

Featured Details:

1. New Halloween Effect is added to Effects shooting mode. Have fun and watch out.

2. Eight Shooting Modes that include: Sony camera mode, effects mode, self-portrait mode, quick-shoot mode, funny mode, tilt-shift mode, color-shift mode, audio camera mode and more!

3. Improved Effects with our third generation image processing engine that can make Effects even clearer and more colorful, creating thrilling photography experiences like never before.

4. Live Effects enables you to view in so real-time that you can shoot amazing photos much easier. **This feature's performance varies according to device, and the viewing face might be a little blurry. You can turn off Live Effects in Settings. **

5. Camera360 Cloud which provides a safe and private platform for you to browse, manage, edit, and share your most favorite mobile photos (supports 2000 px photo uploads)

6. Easy Sharing options that can help you share your favorite photos with friends on Facebook, Twitter and more…

What's New

What is new in Camera360 v4.7.8?

1. Interesting Halloween Effect is available in Effects shooting mode.

2. Some minor bugs are fixed and support for Sony Lens-styled camera is optimized.