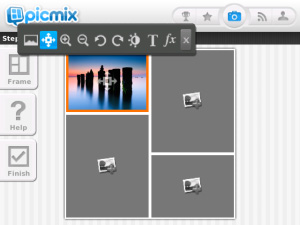 Tag:
PicMix
9930 apps
Overview :
PicMix v3.0.0 for bb OS 5.0,6.0,7.0 apps
size: 1.71 MB
model: Pearl 9100 3G, Pearl 9105 3G, Curve 8520, Curve 8530, Curve 8900, Curve 8910, Curve 8980, Bold 9000, Curve 9300 3G, Curve 9330 3G, Tour 9630, Bold 9650, Style 9670, Bold 9700, Bold 9780, Bold 9788, Curve 9220, Curve 9350, Curve 9360, Curve 9370, Storm 9500/9530, Storm2 9550/9520, Torch 9850/9860, Torch 9800, Curve 9380, Bold 9790, Torch 2 9810, Bold 9900/9930, 9981

Description:
---NEW PICMIX 3.0---
What's new in PicMix 3.0:
- NEW FRESH LOOKS! : In this version, PicMix comes with the new cool redesigned UI to freshen your eyes.
- CUSTOM FRAME: Now you can adjust Frame's width & height by sliding its frame border. And even better, you can add frames inside a frame.
- NEW FILTERS: Advance your creativity with these 3 new filters : Kailani, Burann, and Fire.
- UNIQUE USERNAME: Starting this version, every users will get their unique usernames. So book your unique username NOW before it's taken by others ! You can also search or mention other users by using their @username
- COMPLETE USERS PROFILE: add your facebook, twitter, flickr and g+ to your profile!
- HASHTAG: Mark keywords or topics of the picture you post by adding hashtag(#) on its title, so others can easily search and see related pictures with the same keyword
- Minor Bug Fixing
More than 1,5 Million Users in its first 10 weeks! Join the crowd of massive photo making fun! The Contest is still UP looking for the best PicMix photos ever!
A picture is worth a thousand words, but multiple pictures in fancy frames, text caption and photo effects, is worth a MILLION stories and awesomeness. With PicMix, you can combine your favorite photos into custom frames, adjust the photos, add text caption (just like comic book!) , finalize it with touch of fancy EFFECTS, and share it to your friend on facebook, twitter and even set it as your BBM™ profile pictures. Create a good pictures and grab a place at POPULAR to become PicMix celebrities. Join the CONTEST and win exclusive prizes! Start PicMixing now, its totally FREE and FUN!
We love hearing from you, our beloved users :)
So if you have any feedback, questions or concerns about PicMix, don't hesitate to let us know:
* Support: support@mypicmix.com
* Website : www.mypicmix.com
OR follow us on Twitter:
https://twitter.com/picmixit
Happy PicMixing!