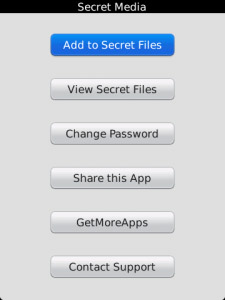 Tag:
Hide Files
Overview :
Hide Files v1.3 for blackberry applications
File Size: 168 KB
Required Device Software:
Smartphone: 5.0.0 or higher

Description:
***Hide Media app for BlackBerry®***
Hide the Pictures/Videos that you don't want anyone to see.
Hide Media enables you to hide all your important and personal media files such as photos, videos, music files, personal recordings,etc on to your BlackBerry® . Hide all your personal media files from the prying eyes of your family and friends so that no one else can view them.
Features:
*Password Protection
*Hide pictures,videos,songs
*View media files inside the app
*Support OS 5 to OS 7.1

i hope you like it. enjoy.