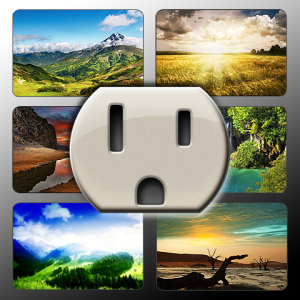 Tag:
bold
Storm
curve
tour
Photo
Screen
Charger
Overview :
Screen Charger Photo v1.0.2 - free download
Supported devices :
Blackberry 81xx, 82xx, 83xx, 85xx, 87xx, 88xx, 89xx, 9000, 91xx, 93xx, 95xx, 96xx, 97xx, 9800 , 99xx
Description
Screen Charger™ FREE turns your BlackBerry® into a beautiful digital picture frame the moment you plug it in!
Replace that boring old clock with stunning HD landscape photos that pan, zoom, and fade their way across your BlackBerry® display in classic Ken Burns fashion. Experience a beautiful slideshow on your BlackBerry® every time you charge it - truly the first and only app of its kind!
Includes small Battery Meter and Clock on either side of the display, which can be turned on and off at the click of a button.
Additional Options:
★ Unlock Screen Charger - upgrade to full version and use YOUR OWN PHOTOS in the slideshow!
★ Slideshow Timeout - select how long to display the slideshow
★ Send to a Friend - show some love and recommend Screen Charger it to your friends
★ Link to more free apps, themes, games & more
Keep your eye out for more exciting photo sets and features coming soon!
Pro Tips:
★ Set the "Enable slideshow" option so that your BlackBerry® automatically launched Screen Charger upon charging
★ Power sources can include USB cable, car charger, wall charger, etc.
★ Set your BlackBerry® on a charging station to really show off your pics
★ Slideshow can also be launched directly with no power source by selecting the app icon itself from your BlackBerry® desktop and clicking "Start Slideshow" at the bottom of the screen