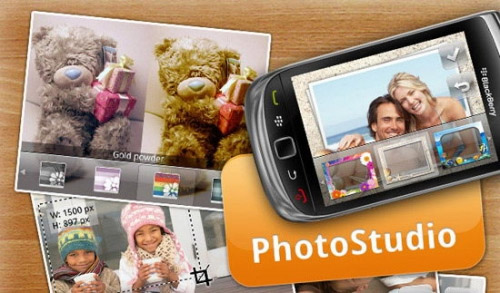 Tag:
9981 apps
Photo Studio
Overview :
free Photo Studio v0.9.8.25 for os7.0 apps
size:3.87 MB
model: Curve 9350, Curve 9360, Curve 9370, Torch 9850/9860, Curve 9380, Bold 9790, Torch 2 9810, Bold 9900/9930, 9981

Description:
Photo Studio for BlackBerry® is utilized by both amateur and professional photographers who seek simple, but powerful image processing on-the-go. Users can turn their BlackBerry® into a fantastic photo editing studio that allows them to mix operations, frames and effects.
Main features:
- BBM Connected! Share your photo directly from Photo Studio.
- Base photo operations: brightness, contrast, RGB color adjustment, hue, saturation and many more.
- Transform operations: resize, rotate, crop.
- 75 unique effects in categories: 'Simple toning', 'Old Style', 'Vintage', 'Summer mood', 'Sketch', 'Lomo', 'Blur' and 'Art'.
- A set of frames. Apply set of beautiful digital frames to your photos. Available packs: 'Christmas Frames 1', 'Christmas Frames 2' and 'Frames Pack 1'.
- PicFrames helps you combine multiple photos into amazing looking frames.
- Combine operations: Apply single or multiple effects to one image.
- Several output formats: Save the result in different formats: 'Small', 'Normal', 'Large' and 'Original'.
- Share photos with Facebook, Twitter and Messages applications installed on BlackBerry.
- PRO version includes unlocked packs 'Effects Pack 1', 'Frames Pack 1', 'Christmas Frames 1', 'Christmas Frames 2' and PicFrames.